Robert FitzRoy, Captain of the HMS Beagle on Charles Island (also called Isla Santa Maria or Floreana) in the Galapagos Archipelego
Today . . .
This quiet and fairly isolated, medium-sized island at the south of the Galapagos Archipelago is one of the geologically oldest in the group so its volcanic features have been somewhat softened over time. It has rich soil and a good water supply with a diverse flora.
Floreana was the first Galapagos Island to have settlers and is best known today for its dramatic history rather than its wildlife. A box on the shore of Post Office Bay has served as a mail drop for passing ships since the time of the buccaneers.
The "deranged" Irishman, Patrick Watson who first settled on Floreana in 1807, set the pattern for strange and dramatic events by stealing a boat (whose crew mysteriously disappeared) to escape to the mainland. There he ended up in jail accused of plotted to steal another boat to return to the island.
In 1832, the same year the new Republic of Ecuador claimed the archipelago, Ecuadorian General José Villamil founded the settlement visited by Captain Fitz-Roy and Charles Darwin on the northwest part of the island. Eighty mutinous soldiers whose death sentences had been commuted to life on the island made up this first official colony.
It was at this settlement that Governor Nicholas Lawson mentioned to Darwin that the tortoises on different islands differed in the shapes of their shells, a fact that only became significant to him years later as he formulated his theory of evolution. It meant so little to him at the time that he did not even mention it in The Voyage of the Beagle.
Two years later, in 1837, General Villamil abandoned the colony to a brutal colonel, after which events went rapidly, but colorfully, downhill (rebellion and a pack of vicious dogs were involved).
Other settlement attempts were equally unsuccessful, dramatic, and deadly until the Wittmer family arrived in the 1930s amidst other mysterious and dramatic intrigues (see The Galapagos Affair in Additional Reading and Resources), but managed to create their own successful story.
Puerto Velasco Ibarra on the western coast, named after an Ecuadorian President elected to office four times in the 1950s and 1960s but ousted by a military coup each time, is the only remaining populated area today. It is a settlement of fewer than one hundred inhabitants, including Wittmer descendents.
As result of human (and feral cat) depredations, the island's tortoise population is extinct and the Charles Mockingbird remains only on offshore islets. The archipelago's largest group of Flamingoes, along with other shorebirds, populates a lagoon near Punta Cormorant, the northernmost tip of the island.
In 1835 . . .
In 1835 when the ship moved on to Charles Island after charting Chatham Island, the Beagle first anchored in Post Office Bay. The next day, Captain FitzRoy and a landing party accompanied the acting governor (Governor Villamil was absent) in a small boat to Black Beach. From there they followed an ever-climbing path to the island's settlement in the inland highlands.
Captain FitzRoy explained in his Narrative:
[September] 24th. While we were endeavouring to reach the anchorage in Post-Office Bay (Charles Island), Mr. Chaffers and Mr. Mellersh went away in a boat to visit the islets that lie near the eastern side of that island: and it was found that they had all been the summits of volcanoes.
Charles Island is peculiar in its outline: for a succession of round topped hills, precisely similar in shape, though differing in size, shews on every point of view. This exact similarity is very remarkable. Must not all these volcanoes* have been thrown up under the same circumstances, such as similar action of the ocean, or even a strong wind—perhaps at the very same time?
* For volcanoes they certainly have been.
The highest and largest of these hills rises 1,800 feet, the next about 1,700; the rest are of various smaller heights.
The northern sides of the island are wooded, but the wood looks as brown as that on the lower parts of Chatham Island.
Post-Office Bay is sheltered, easy of access, has excellent anchorage, and only wants fresh-water to make it a most desirable harbour for shipping.
Its name is the result of a custom established by the whalers: a box was placed on a post, to receive letters, and homeward-bound ships examined the directions, taking with them all which they might have means of forwarding; but since the island has been peopled the box has been empty, for letters are now left at the settlement.
25th. Mr. Nicholas O. Lawson, acting for the governor of this archipelago,‡ came on board. With him and me a party went to another anchorage called Black Beach Road, landed, and walked up towards the settlement.
‡ An officer of the republic of the Equator.
In 1832, the republic of the 'Ecuador' decided to use these islands as a place of banishment, and sent a small colony to Charles Island. 'La Floriana' is the name given to this island by the Guayaquilians, though by the Spaniards it was once called 'Santa Maria de l'Aguada.'
The governor, at the time of our visit, was Don José Villamil. There were then about eighty small houses, or huts, and nearly two hundred souls upon the island, most of whom were convicts.
After walking rather more than a mile along a good path, through the underwood (which as the ground rises becomes very thick), we reached a small spring of water, near which are a few huts, but no cultivated ground. The water from this spring might be conveyed to shipping by means of leaden pipes, without much difficulty, but it is not of very good quality.
Having ascended gradually during another half-hour's walk, we reached the ridge of that height which limited our view of the sea; when surprisingly sudden and agreeable was the change. Heated and tired by a dusty uphill walk, through sun dried trees and over rugged lava stones, our bodies were here refreshed by a cool breeze, while our eyes enjoyed the view of an extensive, fertile and cultivated plain.
Surrounded by tropical vegetation, by bananas, sugar canes, Indian corn, and sweet potatoes, all luxuriantly flourishing, it was hard to believe that any extent of sterile and apparently useless country could be close to land so fertile, and yet wear the most opposite appearance. Our eyes having been accustomed to the desert shores of Peru and northern Chile, during many months, were completely dazzled by a sight so new and unforeseen.
It appears that rain falls very frequently on these higher grounds, and is absorbed by rich black mould of a nature sufficiently clayey to enable it to retain moisture. During the wet season this plain becomes quite muddy, while the little rain that falls on the lower ground is so quickly absorbed, or finds its way so soon through the loose lava stones that its effects are not there visible.
Most of the houses are in this fertile space, but it appears that a house on the dry ground, and plantations in the moist valley, would answer better: for at Mr. Lawson's house salt cannot be kept dry, books and paper become mouldy, and iron rusts very quickly.
At his table we found the welcome of a countryman, and a variety of food quite unexpected in the Galápagos Islands, but fully proving their productiveness.
At the foot of a hill we saw water dropping plentifully, and from this spring, called the "Governor's Dripstone," the inhabitants obtain a certain supply throughout the year.
Although most of the settlers were sent here against their wish, there are many who do not desire to return to the continent. Some are married and have children on the island.
In a small cave near the "governor's dripstone," an old sailor lived during several years; he had been unfortunate, and was tired of the world. Terrapin and potatoes were his food, till a former friend, the master of a whaler, recognized him, and carried him away by force. So strongly was the old man attached to his cave, that he shed tears when taken away.
There are goats and hogs upon this island, but they are scarce and wild, not having yet had time to increase much; they are hunted with dogs, through it would be wiser to let them alone for a few years.
The settlers have abundance of vegetables, and depend chiefly upon terrapin for their meat. Many of these animals being large and heavy, the people who go in search of them kill and open them on the spot, then take out the fleshy pieces and put them in a bag. Thus one man can carry away the useful parts of more terrapins than several men could lift.
The quantity of tortoise shells lying about the ground shows what havoc has been made among these helpless animals. On the lower ground, near the spring, I saw an apology for a garden, in which the large terrapin shells were used to cover young plants, instead of flower pots.
In a place one has not seen before, some marked peculiarity occasionally reminds one, more forcibly than the ordinary novelties of scenery, that all around is strange and new. The palm-trees and arid appearance of St. Jago, the sedan chairs of Bahia, the boats of Rio de Janeiro, the beef carts of Monte Video, the travelling waggons of Buenos Ayres, the "toldo' of the Patagonian, the wigwam of the Fuegian, the wooden houses and clogs of San Carlos de Chilóe, the stockades of Valdivia, the effects of earthquake at Concepcion, the concentrated bustle of Valparaiso, the quiet and uniform serenity of Coquimbo, women riding astride and troops of ill-used donkeys at Lima, are a few instances among the multitude of such local peculiarities.
Small birds are numerous on this island, and so remarkably tame that they may be knocked down with a stick. Lizards are also numerous; and there are a few small snakes, but those we caught were not venomous.
Among the useful vegetables we noticed the plaintain, pumpkin, yuca, Quito orange, castor oil plant and melon, besides those before mentioned.
Returning on board we met Mr. Stokes on his way from the southern parts of the island: he described the lava thereabouts as having such a form and rugged surface as the sea would present if suddenly congealed, while ruffled by a very strong wind.
Later in the voyage, Charles Darwin and his party were landed to explore James Island. Captain FitzRoy took the Beagle back south to Chatham Island to take on fresh water, then stopped again at Charles Island on the way back north to pick up the landing party.
Captain FitzRoy continued:
[October] 14th. Anchored and examined Hood Harbour, having heard there was a sunken rock in it which our boat had not discovered, but we found nothing dangerous for a ship. Shoal water and large blocks of lava lie near the shore in the harbour; but a vessel must have stood too close in if she touches thereabouts.
Left Hood Island at noon, and steered for the southern part of Charles Island. Having a fine breeze we rounded Saddle Point at eight, and anchored at nine off Black Beach.
15th. I went to Post-Office Bay and near the best landing place, found some excellent salt, which though but small in quantity gives a hint that more may be got elsewhere.
16th. Weighed in the afternoon, having obtained the necessary observations, and went to Black Beach Road to take in wood, potatoes, and pigs. We there found a small schooner at anchor, just arrived from Guayaquil, and having, among other things, a bag of letters from England, for the Beagle. That very evening we were to leave Charles Island; not to return!
In the schooner were some emigrants; who brought cattle, and information that the governor, Villamil, might be expected to arrive in a few days, with a vessel laden with animals, and supplies for the settlement.
We stood across, during the night, to the four islands near Point Woodford; and at day-break next morning (17th) resumed our usual occupations, while sailing along the east side of Albemarle Island.
(This selection comes from Lynn Michelsohn's forthcoming book, In the Galapagos Islands with Charles Darwin.)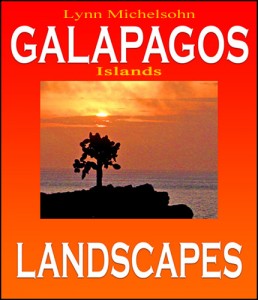 You might also enjoy these books by Lynn Michelsohn that include Herman Melville's descriptions  of the Galpagos Islands and Moses Michelsohn's nature photographs