The young outlaw known as Billy the Kid spent the winter of 1880-1881 in Santa Fe, New Mexico Territory—trying desperately to get out of its jail.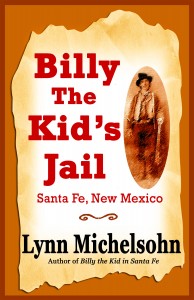 He hired lawyers.
He wrote the Governor.
He even tried digging his way out!
Nothing worked.
Billy only "escaped" from this "safest jail in the Territory" in March 1881, when deputies finally escorted him to the railroad station for a trip to southern New Mexico—where a jury of his peers waited to convict him of murder.
But just where was this invincible Santa Fe jail?
Today, in Santa Fe, two plaques mark the spot.
Or rather, two competing spots . . .
Plaques on two different Santa Fe buildings currently commemorate two different locations as the site of the Santa Fe jail that held Billy. One appears on San Francisco Street and another on Water Street. But which was the real location of Billy the Kid's Santa Fe jail?
Busy San Francisco Street had long been thought to be the jail site, based on a map in Santa Fe's Fray Angelico Chavez History Library. That 1877 Plat of the City of Santa Fe, drawn by Deputy U.S. Surveyors William Griffin and William McMullen, locates the jail in the block of San Francisco Street between Galisteo Street (then called Bridge Street) and Sandoval Street. Unfortunately, the map does not specify the exact location of the jail within that block.
Despite this vagueness, in 1944, businessman Murray Cornell placed a bronze plaque on the side of his newly purchased building at 208 West San Francisco Street, directly across from Burro Alley (the narrow passageway providing a gathering place for wood sellers with their pinion-loaded burros, as well as hosting a few establishments of questionable repute). The plaque identifies this Cornell Building as the site of the 1880 jail. It reads:
Billy the Kid
The notorious New Mexico outlaw, also known as William Bonney, was captured and successfully imprisoned for the last time in the downstairs jail housed in this, the Cornell Building, at 208 W. San Francisco St, Santa Fe from December 27, 1880 to April 3, 1881. On that date he was moved to Mesilla, New Mexico for trial. He was found guilty and sentenced to hang, and moved to Lincoln County jail, from which he escaped. He was shot and killed by Sheriff Pat Garrett in Ft. Sumner, New Mexico on July 14, 1881.
Murray J. Cornell, Aug 16, 1944
In a 1994 Albuquerque Journal interview, Cornell explained that he based his claim on information supplied by an early Twentieth Century reporter and gossip columnist for the Santa Fe newspaper, then called simply the New Mexican. That reporter, B. B. Dunne—quite a character in his own right—claimed that Cornell's building had the only stone-lined basement in the area in the Kid's day, a time when most Santa Fe buildings were made of adobe and had no basements.
This was important because the Daily New Mexican had reported on December 30, 1880 that Billy was being held in "a stone cell to which even the light of day is denied admittance." According to Dunne, the Cornell Building basement wasn't an official jail but was used to hold Billy temporarily.
In spite of Murray Cornell's longstanding plaque, the City of Santa Fe placed a second Billy-the-Kid plaque on the side of the Otra Vez building on the southwest corner of Galisteo and Water Streets in 2009. This building currently houses the Collected Works Bookstore (that, interestingly, occupied the Cornell Building for many years).
The new plaque identifies this location on Water Street as being the site of the 1880 jail, based on an 1883 Sanborn Insurance map, also available in the Fray Angelico Chavez History Library. Numerous sources confirm that an adobe county office building and jail stood on this site in the late 1800s, until replaced by a sturdy brick jail in 1906.
This location had long been cited as a possible location of the jail by Billy the Kid enthusiasts (such as Bob Boze Bell in his 1996 book, The Illustrated Life and Times of Billy the Kid) but evidently the City only became aware of it when local amateur historian Bob Ross pointed the Sanborn map out to them.
The Water Street plaque reads:
Former Site of Santa Fe County Jail
That Held Billy the Kid
The adobe jail on this site was demolished sometime between 1902 and 1906. It held outlaw William H. Bonney, better known as Billy the Kid, from December 27, 1880 to March 28, 1881. Sheriff Pat Garrett of Lincoln County captured The Kid near Fort Sumner and brought him here to await trial. After failing to obtain a pardon from Gov. Lew Wallace, Bonney was tried in Mesilla and found guilty of murder. He was transferred to Lincoln County where he escaped. Sheriff Garrett caught up to him again at Fort Sumner and shot him dead on July 14th, 1881.
No clear evidence backed either plaque. Based on the Fray Angelico Chavez History Library maps, the jail occupied a building on San Francisco Street in 1877 and one on Water Street in 1883. But where was the jail when Billy checked in on December 27, 1880?
Lynn Michelsohn discloses the answer in her book, Billy the Kid's Jail, but goes on to argue that both plaques should remain.
Now that we know which commemorative plaque is in error, should the other one come down?
Never!
This plaque represents a valuable part of Santa Fe's quirky history. And Santa Fe traditionally embraces its quirks.
The Santa Fe Trail Marker erected by the Daughters of the American Revolution on Santa Fe's Plaza not only mistakes the ending date of the Trail's useful life (the railroad didn't arrive in Santa Fe until 1880, not 1879), but for over one hundred years, it has erroneously shown Plaza visitors that the famous Four Corners area lies in the northeastern, not northwestern, part of New Mexico.
Misspelled and politically incorrect inscriptions on the Plaza Monument have greeted visitors for even longer (although an energetic but unofficial workman did chisel the word "SAVAGE" (referring to Native Americans) off its northern face one afternoon in 1974, curiously leaving intact the also-sometimes-disfavored word that followed it, "Indians").
Why shouldn't Santa Fe proclaim two different locations for Billy the Kid's jail? Santa Fe is, after all, the City Different!
(This selection comes from Billy the Kid's Jail,  Santa Fe, New Mexico)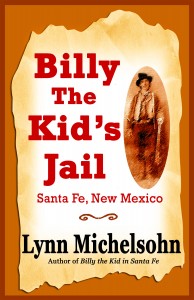 You might also enjoy Lynn Michelsohn's book about Billy the Kid's youth in Santa Fe:
© Cleanan Press, Inc. 2004 – 2014