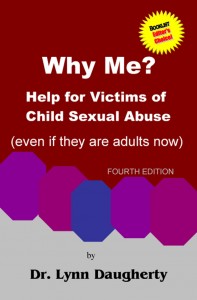 Why Me?  Help for Victims of Child Sexual Abuse  (Even if they are adults now) 
by Dr. Lynn Daugherty
Ebook and paperback available from: Amazon.com
  and all other Amazon stores, Barnes & Noble
Ebook also available from: Apple iTunes,  Kobo, Flipkart
Paperback also available from: The Book Depository (with free worldwide shipping), most other online booksellers, and your local bookstore
 

Find Help and Healing from Childhood Trauma
Book Description
"A good simple, beginning book for child, teen, and adult survivors" – authors Ellen Bass and Laura Davis describing Why Me? Help for Victims of Child Sexual Abuse in their groundbreaking book for abuse victims, The Courage To Heal.
"As well as helping victims, it is also a book for people who want to learn more about child sexual abuse" – Adrian Ford, Senior Social Worker at The Children's Hospital, Camperdown, NSW, Australia writing in her introduction to the Australian edition of Why Me? Help for Victims of Child Sexual Abuse.
Adults and adolescents who were sexually abused as children find help and healing in this classic bestseller from a respected Clinical Psychologist. Now in its fourth edition, this warm and personal, beginning guide gives you . . .
> answers to child sexual abuse questions
>stories of male and female victims
> insights into sexual abusers
> explanations of effects on victims
> step-by-step guidance to begin your recovery
> resources for additional assistance
Understand important psychological concepts easily because they are presented in clear, everyday language. Feel understood and valued as you begin healing from the pain of child sexual abuse with the classic bestseller.
– Honored as an Editor's Choice Selection by Booklist
– Over 60,000 copies sold worldwide
– Recommended reading by support groups from New Jersey to        Alaska, Scotland to The Netherlands to Fiji