by Libby Lynn and Moses James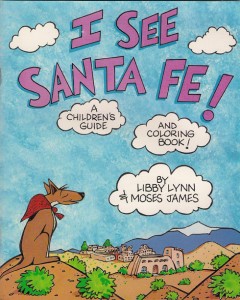 Ebook available exclusively from: Amazon.com
 and all other Amazon stores
Paperback available from: Third Party sellers at Amazon.com.
Book Description
This thirty-two page children's guide is directed toward children, rather than their parents.
Simple, child-like, black-and-white drawings (with splashes of color in the ebook, while the print edition also serves as a coloring book) illustrate the sights, sounds, smells, tastes, and "feel" of old Santa Fe: adobe walls, chile ristras, the Santa Fe River and Plaza, pottery and rugs, statues and fountains, tortillas and sopaillas, pinon smoke and pigeons.
"Should delight any child under ten," according to The New Mexico Magazine.
Perfect to prepare young children for a trip to Santa Fe, or as a souvenir of a wonderful visit.