Lowcountry Ghosts: Stories of Alice Flagg, Confederate Blockade Runners, and Haunted Beads    (Tales from Brookgreen Series) 
by Lynn Michelsohn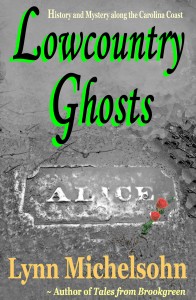 Ebook and paperback available from: Amazon.com
 and all other Amazon stores, Barnes & Noble, Flipkart
Ebook also available from: Apple iTunes, Kobo
Paperback also available from: The Book Depository (with free worldwide shipping), most other online booksellers, and your local bookstore

Book Description
Lowcountry Ghosts haunt the maze of marshes and ancient rice fields along South Carolina's Coast . . .
~ Does lovely Alice Flagg still live in The Hermitage at Murrells Inlet more than 100 years after her death?
~ Do ghost ships appear out in the marsh represent lost fishermen? pirates? Confederate blockade runners?
~ Are threatening spirits haunting Miss Genevieve's beads taken from a long-forgotten grave?
Find history, mystery, and romance in these three gentle ghost stories (10,000 words; nine illustrations; plus excerpts from her other books; 94 pages in paperback).
Please note: These stories also appear in Lynn Michelsohn's longer collection, Tales from Brookgreen, Folklore, Ghost Stories, and Gullah Folktales in the South Carolina Lowcountry.