Jails in Old Santa Fe and New Mexico Territory
(A selection from Lynn Michelsohn's book, Billy the Kid's Jail, Santa Fe, New Mexico)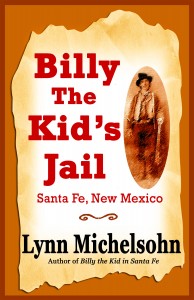 As a young teen, Billy the Kid lived in Santa Fe, New Mexico, along with his brother, mother, and his mother's long-time  companion, William Antrim.  As Billy always enjoyed reading the newspaper, he may well have seen this interesting article in the 1873 Daily New Mexican.
As the reporter explained, a husband in Cienega, a small town not far west of Santa Fe, killed his wife by chopping her to pieces with an ax. Authorities brought the newly bereaved widower to the Santa Fe jail but the newsman cynically expected him to be released quickly or allowed to escape. (In a related article, also of potential interest to Billy, the editor commented, "We trust Attorney General Conway will examine into the matter of the frequent escapes of the worst class of criminals from our county jail.")
Jails in the New Mexico Territory had long presented problems. This hadn't been the case in Spanish or Mexican Nuevo Mexico when long periods of incarceration were not thought practical. Under those regimes, authorities preferred fines, floggings, forced labor, banishment, or simply, death, as methods of punishment.
When American General Kearny took over New Mexico in 1846 at the beginning of the Mexican War, he found two or three rooms in the southwest corner of Santa Fe's one government building, the Palace of the Governors (in a portion of the building that extended into the middle of today's Lincoln Avenue but was later demolished) meeting the needs of the entire province for jail cells.
When New Mexico became a Territory of the United States after that war, the new system of American justice that sentenced convicted criminals to extended jail terms required finding places to confine an increasing number of prisoners. Poorly financed local governments placed little emphasis on this new responsibility. They could spare few funds for jailhouses or their inmates.
A little more than a decade before Billy first arrived in Santa Fe, County Sheriff R. M. Stevens had notified Territorial Governor James Calhoun that he had no money to feed his prisoners. Governor Calhoun responded that the Territorial government had no resources to help, but quickly resolved the crisis by issuing pardons and ordering the release of all fourteen inmates, including one under indictment for murder.
Such jails as there were in Territorial times were hastily constructed and poorly built, usually of adobe or other weak materials. Jailers relied more on chains and shackles to keep prisoners from escaping than on secure jailhouse design (thus the frequent mention of restraint devices later placed on Billy). A visitor once noted that the door to the Taos County jail was "securely fastened" with a piece of twine.
As noted by the Santa Fe newspaper editor, escapes were understandably frequent. In fact, on one memorable night in March 1853 all prisoners in the Santa Fe County jail simply walked out, never to be seen again.
At a later date and in another place, but in a comment even more relevant to Billy, Sheriff Pat Garrett (never one concerned with political correctness) remarked that southern New Mexico's Lincoln County had never had a jail "that would hold a cripple." They certainly never held Billy.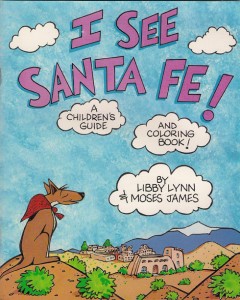 Our books about Santa Fe: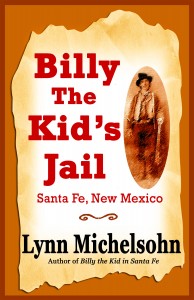 Copyright 2024-2014 Cleanan Press, Inc.