The Song: UFO BREAKDOWN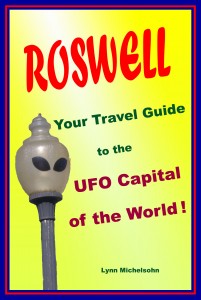 by Jon Shannon Webster
(To be sung in a New Mexico drawl, accompanied by guitar)
In 1947 when the craft went down
There was hurryin' & scurryin' all over town.
They brought in pieces of the thing at risk
& they brought in the pilots of the flying disk.
The nurse walked in and she said, "My stars!
What you got on the table is a man from Mars!"
The Air Force gathered up the evidence &
Locked it all away behind a great big fence.
They flew it all out on the very next day,
But I swear I overheard a G-man say,
"Someone in Roswell knows (they know)
what happened to the UFOs!"
The local newspaper covered all the crimes
And it got picked up by the London Times.
They rounded up the rancher who had broke the news
& corralled him for an interview.
He said, "That's the dumbest thing that I never seen.
Oh, and by the way … they ain't green!"
Without a saucer and without a corpse,
People just went on back to work of course.
Everybody went on their merry own way,
But every now and then you'd hear a local say,
Someone in Roswell knows (they know)
what happened to the UFOs!"
Ever since the UFO came that day there've been
Things that couldn't be explained in some other way:
Edsels, rap music, Shamu the Whale,
Pet Rocks, body-piercing, Zima, Dan Quayle,
Rush Limbaugh, bell-bottoms, Michael Jackson's nose,
Pot-bellied pigs and TV talk shows,
Studio wrestling, Coke without caffeine,
Madonna, Grenada & bucking machines.
Try to get the files on the flying disk &
The GAO will tell you that they don't exist.
Someone in Washington knows (they know)
What happened to the UFOs!
I was riding the swing late one night
When there came upon me a blinding light.
I wasn't worried or afraid of course,
But it was all that I could do to sit my horse.
 can take the flashing lights, I don't mind the rattle,
But it kinda makes me nervous what they do to the cattle!
Now on solitary nights 'neath a prairie moon,
I get that sense that I ain't alone,
But I feel a little better 'bout the human race,
Knowing there's a back-up in outer space.
Someone in Andromeda knows (they know)
What happened to the UFOs!
Copyright 1996 by J. Shannon Webster. Used with permission.
From Jon Shannon Webster's CD Heart and Hat in Hand.
Available from www.texasartgallery.com or
Feral Word Music, 5212 7th Avenue South, Birmingham., AL 35212.
For more information about the Roswell UFO Crash . . .
BUY the paperback or ebook version of Lynn Michelsohn's guidebook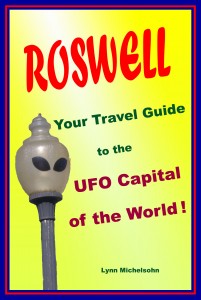 Copyright © 2004 -2014 by Cleanan Press, Inc.