Roswell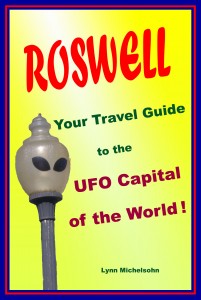 Your Travel Guide to the UFO Capital of the World!
by Lynn Michelsohn
Ebook and paperback available from: Amazon.com
 and all other Amazon stores, Barnes & Noble, Flipkart
Ebook also available from: iTunes/iBooks (Apple), Kobo
Paperback also available from: The Book Depository (with free worldwide shipping), most other online booksellers, and your local bookstore
 Book Description
Tour Roswell like a Native–or maybe like an Alien!
Find the detailed information you need to enjoy attractions and activities in this unique travel destination:
~ locations and events associated with the 1947 Roswell UFO Crash
~ a world-class art scene
~ the Wild West of Pat Garrett and Billy the Kid
~ green enchiladas and Alien jerky
~ Robert Goddard's early rocket experiments
~ and enough rattlesnakes, roadrunners, prairie dogs, pronghorn antelope, and sandhill cranes to start your own wildlife channel!

Can't make the trip this year?
Enjoy Roswell from your armchair–or your beach chair–as locations, events, and characters come alive in this informative and entertaining guide.

Illustrated with 12 line drawings, 14 orientation maps; appendix contains an annotated list of other fiction and non-fiction, DVDs, and CDs about Roswell.

People are saying . . .

"The best book on Roswell I've ever seen." -Judge Dick Bean, Roswell Native

"I've discovered a lot of neat things I didn't know . . . and have greatly enjoyed reading it." -John LeMay, author of Roswell (Images of America: New Mexico)

"Wonderful information." -Noe Torres, UFO investigator and author of Mexico's Roswell and The Other Roswell 

From the Back Cover
Discover . . .
– Key 1947 UFO Crash Sites–and Sights
– A Museum Devoted Entirely to Aliens and UFOs
– Roswell's Best Enchiladas, Phad Thai, and Tiramisu
– The World's Most Complete UFO Research Library
– A Moon Rock, a Pecos Valley Diamond, and a Chunk of the Berlin Wall
– Three Shootouts, Two Hangings, and an Alien Autopsy
– 2 World Class Art Collections and 2 Fun Ways to Spend 25
– The Strangest Alien Souvenirs in the Universe
– 5,000 Snow Geese and 10,000 Sandhill Cranes
– Hundreds of FREE Attractions and Activities
– And More Interest in Crop Circles, Alien Abductions, Government Conspiracies, Extraterrestrial Beings, and UFOs than you could ever Imagine!