Roswell, New Mexico – UFO Capital of the World!
Main Street Downtown — The Chaves County Courthouse, Pioneer Plaza, and Santa Fe Railroad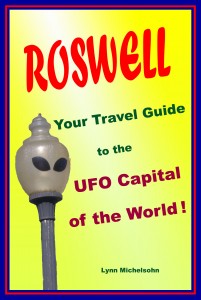 Some of Our Attractions:
Chaves County Courthouse (Lea horse corral site, old Courthouse site) (401 N. Main). In the 1870s Captain Joseph Lea, "The Father of Roswell," built a large horse corral with adobe walls five feet (1.5 m) high on this site across Main Street from his home. When the Territorial Legislature split Chaves County off from Lincoln County in 1889, Captain Lea donated this full city block of land for the Courthouse.
The Legislature named Chaves County in honor of Jose Francisco Chaves (1833-1904), the son and grandson of governors of Nuevo Mexico, who reached the rank of Lieutenant Colonel in the Union Army fighting first Confederates, then Navajos. Chaves later became a rancher, a lawyer, and New Mexico's Territorial Delegate to the United States Congress from 1865 to 1871. He remained a powerful leader in the New Mexico Republican Party until an unknown assassin shot him in 1904. A bronze bust of Francisco Chaves by sculptor Robert Summers, who also sculpted the large statue of John Chisum across the street in Pioneer Plaza, stands in the Rotunda of the new portion of today's Courthouse.
In 1911, Chaves County officials hired the Rapp brothers, architects from Trinidad, Colorado, who had recently completed the National Guard Armory and the master plan for the buildings and campus of NMMI, to design a new Courthouse, this current one. Both the Rapp brothers and County officials went "all out" on this new Courthouse, designed in the then-popular Beaux Arts Classical style. The County spent the outrageous amount of $164,000 on its construction completed in 1912, the year New Mexico became the 47th state.
The Rapp brothers' design included all sorts of shields, medallions, garlands, and other folderols around both rectangular and arched windows, and called for green terra-cotta tiles to create the only domed courthouse in New Mexico. They even decorated the ribs between the tiled areas of the dome with garlands—check it out with your binoculars. Amazingly, the Rapp brothers' original design was even more ornate!
Word is, the people of Chaves County spared no expense on their Courthouse because statehood was fast approaching and they knew the Federal Government would take over all county financial obligations as soon as New Mexico became a state. Therefore, their fancy new Courthouse would cost the people of Chaves County nothing!
Builders also constructed a separate, but much less ornate, jail behind the Courthouse at the same time. In the 1930s a jail annex was built that connected the jail to the Courthouse and also contained the Sheriff's Office. It was here that Mack Brazel came to report finding strange debris in July 1947. A few months later, future Grand Ole Opry and Country Music Hall of Fame star Leftie Frizzell wrote his first two hits, "I Love You a Thousand Ways" and "If You've Got the Money, Honey, I've Got the Time" while serving that time in this lockup.
A separate Juvenile Detention Center was added on the southeast corner of the Courthouse in 1974, on the spot where the only legal execution in Chaves County's history had taken place. In 1896 two Hispanics, Eugenio Aragon and Antonio Gonzales, were convicted of killing a local Anglo cowboy, Charley Vansycle, during a robbery. They were sentenced to hang. One committed suicide in the Chaves County Jail, but Sheriff Haynes executed the other on September 24, 1896. Prior to the hanging, Sheriff Haynes constructed a high fence around the gallows to shield the public from this spectacle, although some claimed the sheriff built the fence so he could charge admission.
Today, the Juvenile Detention Center remains but the Chaves County Jail and Annex at the rear of the Courthouse were demolished in 1996 when a new Chaves County Detention Center (at East Brasher Road and South Atkinson Avenue) was completed.
The front half of the Courthouse today is the same one completed in 1912. The back half of the current Courthouse was added in matching style in 2004. This enlarged building holds a total of nine courtrooms for District and Magistrate Courts, as well as various county offices—and some of the nicest public restrooms in Roswell. The District Attorney's Office occupies the basement, where some have claimed to hear the ghostly laughter of children playing.
Although the Courthouse has been the scene of many interesting events, the visit of soon-to-be-indicted Vice President Spiro Agnew has probably drawn the largest crowd. One October afternoon in 1972, with the Courthouse's dominating central entrance as a backdrop, Vice-President Agnew campaigned to send Pete Dominici to his first term in the Senate and touted the virtues of President Richard Nixon to a cheering crowd of 8,500 supporters standing "rib-to-rib" on the lawn. Agnew made no mention of those "nattering nabobs of negativity" attacking his boss. Instead the discussion focused on the citizens of Roswell and Chaves County who "have just stood out in Republicanism and Republican activity"— and still do today.
This same impressive entrance with its broad marble steps topped by massive Ionic columns is just decorative these days. The only public entrance to the Courthouse is around the back on Virginia Avenue, but the strict dress code will keep most tourists out—no shorts, no sweats, no tank tops, no flip-flops, no cell phones, in addition to no weapons. 622-2212. Open M-F 8-12, 1-5, closed SS and holidays.
Atchison, Topeka and Santa Fe Railroad. Roswell owes its railroad to the innovative and financially disastrous visions of industrial tycoon James John Hagerman (1838-1909) who hoped to turn the Pecos Valley into an agricultural paradise.
Hagerman made his fortune mining iron and producing steel in Michigan, then mining silver and building railroads in Colorado. When Carlsbad promoter Charles Eddy interested him in the agricultural potential of the Pecos Valley, Hagerman committed his energies and his fortune to a grand scheme for irrigating Southeastern New Mexico.
Of course an agricultural paradise needs a railroad to transport its bountiful produce to national markets. In 1890 Hagerman organized the Pecos Valley Railroad and started constructing a line north from Pecos, Texas, a stop on the Texas and Pacific Railway, which was a fairly unimportant line between El Paso and San Antonio. The "Pea Vine," as his railroad was affectionately, or derisively, called—people said it "began nowhere and ended nowhere"—reached Carlsbad in 1891 and Roswell in 1894. By then Hagerman's irrigation scheme was in disarray and the nationwide financial crisis of 1893 had deflated his profits from other ventures. In spite of impending bankruptcy, he managed to arrange financing to complete his railroad on to Amarillo in 1899, and Roswell had its connection to major transcontinental rail traffic.
Trains don't stop in Roswell anymore, although several freights a day pass slowly through town, blowing their lonesome whistles and blocking traffic.
(Former Santa Fe Railroad Depot) (209 E.5th). J.J. Hagerman's Pecos Valley Railroad Company constructed a two-story frame building to serve as the passenger and freight depot on this site when the tracks arrived in Roswell from Pecos, Texas in 1894. Railroad construction continued northward and by early 1899 the railroad line had connected with major east-west rail traffic in Amarillo.
Fire destroyed the original depot in 1904. Makeshift arrangements (three railroad cars parked on a siding—one for a passenger waiting room, one for offices, and one for a freight warehouse) served in its place until a red brick, hipped roof Santa Fe Railroad Depot was completed on this spot later that year by the company that had taken over the financially strapped Pecos Valley Railroad in 1901.
It was here at the new depot that famous orator and three-time Democratic presidential candidate William Jennings Bryan disembarked in 1909, fresh from the Artesia Alfalfa Festival 50 miles (80 km) to the south. Bryan had come to Roswell to present a series of lectures sponsored by the Chautauqua Society. As this was a major event for a small town in the middle of nowhere, the city fathers had arranged an elaborate welcoming ceremony including celebratory speeches and patriotic music from the town band. The train arrived ahead of schedule however, and Bryan had already left for his lodgings at the Gilkeson Hotel before the greeters arrived.
Remodeling in the 1940s turned the hipped roof of that 1904 station into a flat-roofed, stuccoed building. Now only the deserted freight portion of the depot stands along the railroad tracks on the north side of 5th Street, still sporting the Roswell sign. The long-empty passenger section burned in 2001. Brick paving still in place suggests that it must have been a lovely spot at one time, however.
Pioneer Plaza (Smith house, store, and gambling hall site; Lea boarding house and store site; Goss Military Institute site; Pioneer Block site) (400-424 N. Main). This block has been the heart of Anglo Roswell since its founding shortly after the Civil War. An early settler (whose name seems to be in dispute) built the first adobe structure in downtown Roswell as a trading post and makeshift hotel for drovers on the Goodnight-Loving Trail in 1867. Only a few Hispanic farmers and shepherds and occasional nomadic bands of Comanches and Mescalero Apaches lived in this area at the time. The 15' by 15' (4 m x 4 m) building stood on the spot in the center of the block along today's Main Street where gray paving tiles outline a brown square containing the red Zia sun sign.
PIONEER PLAZA HISTORY:
Van Smith
Thirty-two-year-old C. Van Smith (1837-1914), a professional gambler from "back east," bought this land and the adobe building on it in 1869. He immediately added three rooms and a sleeping loft to the house/hotel—and some say brothel—then constructed a larger adobe building a little to the south (today, at the cement area with park benches on the northwest corner of 4th and Main Streets) for a store and gambling hall where he dealt poker, faro, and three card monte. Outside, Smith constructed two parallel half-mile (0.8 km) tracks for horseracing, stretching either due south along the future path of Main Street, or angling to the southwest—accounts differ. His gambling operation also included pits for cockfighting (legal in New Mexico until 2007), dog fighting, and badger baiting. Smith named this lively and popular rest stop on the Goodnight-Loving Trail "Roswell" in honor of his father, Roswell Smith, and established the first Post Office in the area inside his store in 1873.
John Chisum
Van Smith never got a statue to honor him, but a fellow Roswell pioneer did. The center of Pioneer Plaza holds a larger-than-life bronze sculpture of John Chisum (1824-1884), a larger-than-life character in Roswell's early history: loved by many, hated by some, and played by John Wayne in the 1970 movie Chisum. He built the first cattle empire in Southeastern New Mexico, opening this area to settlement and growth in the 1860s and 1870s. Texas sculptor Robert Summers portrayed Chisum herding his lead steer Ruidoso who sports Chisum's famous "Jinglebob" earmarks—created by slitting his ears their entire length so that the lower portions dangle in an unmistakable mark of ownership.
Born in Tennessee, John Chisum began cattle ranching in Texas as a young man and supplied beef to the Confederacy during the Civil War. After the war he drove cattle into New Mexico looking for new markets. Chisum began following the Pecos River northward to Fort Sumner and the Hondo River westward from Roswell to Fort Stanton to sell beef to the Army for its men and their Navajo and Apache captives, about the same time Van Smith was setting up shop to entertain cowboys in Roswell.
John Chisum claimed vast stretches of grazing land in Southeastern New Mexico, mostly by his mere presence rather than any formal legalities. By 1875, when the 51-year-old cattleman established his headquarters at South Spring Ranch four miles southeast of "downtown" Roswell, he was known as the "Cattle King of the Pecos." His ranch, often called the Jinglebob Ranch because of the earmark he used to identify his cattle, became a popular social center for this part of the territory.
Captain Joseph Lea
In 1877, two years after John Chisum located at South Spring Ranch, 36-year-old Tennessee native and former Confederate Army Colonel Joseph Lea (1841-1904), "The Father of Roswell," moved his wife and young son into the four-room adobe house in the middle of this block formerly owned by Van Smith (who had moved on to greener gambling pastures) and began putting together his own cattle and mercantile empire: the Lea Cattle Company. Captain Lea soon owned all of what would become downtown Roswell—his claims were backed by the proper paperwork—and then began extending his holdings to the north and northwest of town. Lea turned his home into a boarding house, as pictured in an old photo hanging in the lobby of the Roswell Public Library, and also opened a grocery and dry goods store in Van Smith's old store on the corner of 4th and Main Streets. Captain Lea, as he was usually known because he spent most of his time in the Confederate Army at this rank, rapidly became a powerful figure in Southeastern New Mexico. Lea's home came to rival that of John Chisum as a center of social activities in early Roswell.
Enter Billy the Kid
One of John Chisum's hands on the South Spring Ranch during 1876 and 1877 was teenaged Billy the Kid (1859-1881) who was born in New York City but grew up in Silver City, New Mexico. Controversy surrounds almost all aspects of Billy's life and death. Some viewed him as a cold-blooded killer, but many New Mexicans, especially Hispanics and women, thought him a charming, fun-loving young man—and a good dancer. The townspeople of Santa Fe even serenaded the 21-year-old during his brief stay in jail there in 1880.
In 1878 John Chisum joined with Henry Tunstall and Alexander McSween in trying to break (or take over) the monopoly that Lawrence Murphy and J. J. Dolan held on mercantile goods in Lincoln and government contracts to supply beef to nearby Ft. Stanton and the Mescalero Indian Reservation. Over the course of several years the Lincoln County War, as this struggle was called, led to the deaths of at least 19 people who were killed as ranch hands and gunslingers working for each faction terrorized Anglo and Hispanic settlers throughout Lincoln County, which at that time included all of Southeastern New Mexico. Billy's strong sympathies lay with the Tunstall-McSween-Chisum faction. After Billy and a group of Regulators (as those working for the Tunstall-McSween-Chisum faction were called) killed Sheriff Brady in an ambush in April 1878, Governor Lew Wallace placed a $500 reward on Billy's head.
Enter Sheriff Pat Garrett
Back and forth violence continued for several years. Finally, Roswell rancher and former buffalo hunter Pat Garrett (1850-1908) became Sheriff in 1880 and began trying to track Billy down. He succeeded in December of that same year. Billy was tried and convicted of murder, then sentenced to hang, but in April 1881 he escaped from the Courthouse in Lincoln—killing two deputies in the process—before Sheriff Garrett could carry out the execution.
Exit Billy the Kid
It took Pat Garrett three months to find Billy again. Acting on a tip, Sheriff Garrett and Deputy John Poe headed for Ft. Sumner, stopping to buy ammunition at Captain Joseph Lea's store here on the corner of Pioneer Plaza. This time, on July 14, 1881, Sheriff Garrett shot and killed Billy, then buried him next to two of his pals (if that's the story you want to believe).
Both Pat Garrett and Billy the Kid remain controversial figures in the history of Southeastern New Mexico. Even today they stir up as many arguments and strong feelings as some controversy about a crashed space ship. The extent of Chisum's role in the Lincoln County War is also debated but there is no denying that he encouraged Billy the Kid to protect Jinglebob interests. By the time the violence got out of hand here in Lincoln County, he did support Sheriff Garrett's efforts to bring Billy to justice however.
Captain Lea Again
Throughout the Lincoln County War Captain Joseph Lea remained a strong, steady influence that kept Roswell "neutral" while conflict and lawlessness reigned throughout the rest of the county. Once the Lincoln County War ended, Captain Lea encouraged others to come to Roswell, donating land to many new settlers and businesses. His wealth and political influence continued to grow, and after the death of John Chisum in 1884 he became the most powerful man in Southeastern New Mexico, using his influence to help carve Chaves County out of Lincoln County in 1889 with Roswell as its county seat.
Captain Lea convinced Robert Goss to open a military school in Roswell in 1891. He donated five acres (2 ha) and several buildings in this block for the campus, including a 14' by 25' (4 m by 8 m) shed over a portion of the acequia that brought water from the Spring River to the property, and allowed the Goss Military Institute to describe itself as one of only two schools in the country with a Natatorium. The campus remained here until 1894 when it moved two blocks north; in 1898 it moved to its current location on North Hill.
When Roswell incorporated as a City in 1904, the people elected Captain Lea as its first mayor. He died shortly thereafter at the age of 63.Three successive structures at NMMI, Lea Avenue in Roswell's Historic District, and later, Lea County on the state's eastern border were all named in Captain Lea's honor
Pioneer Block
In 1900 John Poe, Pat Garrett's deputy who had later served as Lincoln County Sheriff, bought the land along this part of Main Street, including Van Smith's, and later Captain Lea's, original adobe store on the corner of 4th and Main Streets. He built more stores north from 4th Street naming the group of buildings "Pioneer Block." The original Van Smith hotel, later Captain Lea's home and boarding house, was demolished in 1913 to construct additional buildings in the block. A variety of businesses operated here over the next ninety years.
One such business, the Roswell Daily Record, was located at 424 North Main Street in the northernmost building next to the Conoco Station from 1925 to 1971, when it moved to its current location at 2301 North Main Street. It was here that the RAAF Information Officer Lt. Walter Haut delivered his press release on July 8, 1947 announcing the "capture" of a flying saucer, and here where that evening's edition carrying the famous headline "RAAF Captures Flying Saucer on Ranch in Roswell Region" was printed.
In 1992 the UFO Museum, mainly a collection of newspaper clippings at the time, opened its doors in the southernmost section of the Pioneer Block, on the corner of 4th Street, where Van Smith's original store had stood. Although John Poe had demolished part of that original building in 1900, the adobe north wall of Smith's original store was still in use.
Pioneer Plaza
In 1997 the City of Roswell demolished all the old buildings in the Pioneer Block (including the remaining adobe wall of Van Smith's store) to construct Pioneer Plaza and the current parking lot for City Hall. No one thought to save any of the rubble until it was too late. If interesting artifacts were found they disappeared into private collections. Today Roswell uses Pioneer Plaza as a gathering place for festivals and celebrations. Gray paving tiles around the red Zia sun sign set in a brown background at the front of Pioneer Plaza outline the former location of Van Smith and Captain Lea's house, the first building in Anglo Roswell. The current cement square with park benches on the corner of 4th and Main Streets marks the location of Van Smith's—and later Captain Lea's—store where Sheriff Pat Garrett bought that ammunition he used to shoot Billy the Kid.
Restaurants:
Pepper's Grill and Bar (500 N. Main). Located in the Bank of America building, this popular Mexican and American grill with fun chile murals in the dining areas features Margarita specials, Monday night football in the bar, and live music on the patio some summer evenings—in addition to good queso, flavorful enchiladas and tacos, huge rotisserie chicken salads, and chocolate-mint hard candies at the cash register, where t-shirts with the chile pepper logo may be purchased. Reservations wouldn't hurt on weekends but there is always room for more on the patio. 623-1700. Open M-Sat for lunch and dinner, closed Sun except open for Mother's Day and Easter, holidays variable.
Martin's Capitol Café (110 W. 4th). One of Roswell's most popular restaurants, Martin's, or The Capitol (it's called both) serves great green chicken enchiladas with blue corn tortillas (a Northern New Mexico specialty) and the biggest sopaipillas in town. 624-2111. Open M-Sat for breakfast, lunch, and dinner; closed Sun; holidays variable.
For more complete information about Roswell's Main Street area . . .
BUY the paperback or ebook edition of Lynn Michelsohn's guidebook
Roswell, Your Travel Guide to the UFO Capital of the World!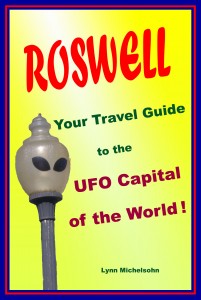 Copyright © 2008 -2014 by Cleanan Press, Inc.
All rights reserved.