Touring New Mexico Military Institute (NMMI)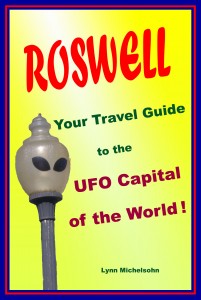 New Mexico Military Institute (NMMI) often brags about its famous alumni such as Conrad Hilton, founder of the Hilton Hotel chain; Sam Donaldson, ABC newsman; Samuel Marmaduke, founder of Hastings; Peter Hurd, American artist; Tony Lama, Jr., founder of Tony Lama Boots; Roger Staubach, former Dallas Cowboys quarterback; Owen Wilson, popular young actor; and Paul Horgan, two-time Pulitzer Prize-winning author. It denies the rumor that Jessica Jaymes, Hustler magazine's 2004 "Honey of the Year," is an alumna.
Founded in 1891 as Goss Military Institute, this is the only state-supported, co-educational, college-preparatory high school and junior college in the United States. Its eight hundred male and female cadets come from all over the United States and many foreign countries. All learn to march (as did Conrad Hilton, Roger Staubach, Owen Wilson, and possibly Jessica Jaymes. Will Rogers did not learn to march here, but his son, Will Rogers, Jr. did, and the senior Will Rogers played the occasional chukka of polo here while visiting his son). Junior college graduates at NMMI have the opportunity to receive a commission in the United States Army.
Isaac and William Rapp, brothers and architects from Trinidad, Colorado, designed a master plan for the NMMI campus and its buildings in 1908 in an architectural style that is a variation of Gothic Revival called Modified Gothic, Military Gothic, or Scottish Castle. Crenellated rooflines recall medieval castles manned by archers who hid behind the higher areas while shooting at attackers through the lower notches. All buildings are constructed of Kansas buff brick that became available—and eventually put local brick kilns out of business—when Roswell's railroad finally connected with the transcontinental railway system in 1899. Many of the buildings sport the Rapp brothers' trademark octagonal turrets. Even the modern Toles Learning Center has stylized ones. (Trivia Question: Exactly how many octagonal turrets are there on campus?)
History
In 1890 Captain Joseph Lea—"The Father of Roswell"—enrolled his son Wildy in Fort Worth University, a premier military school of the day. Captain Lea was so impressed with his son's education there that he convinced the superintendent, Robert S. Goss, to come to Roswell and start a military school here.
Goss Military Institute opened in September 1891 with thirty-eight students and six instructors on land provided by Captain Lea in the 400 block of North Main Street, today part of Pioneer Plaza. The school provided the only high school education in Southeastern New Mexico, focusing on military training as well as academic subjects. Of the first thirty-eight cadets, twenty were female students who were not subject to the same military discipline as the boys but did drill daily with wands instead of rifles.
Financial difficulties soon led the citizens of Roswell to seek support for the school from the Territorial government, which finally agreed to take over the military school. In 1894 the newly renamed New Mexico Military Institute moved a few blocks north to the corner of Main and 7th Streets, near the present-day McDonald's.
In September 1898, after some additional serious financial difficulties that required closing the school for several years, NMMI again relocated, this time to its present-day site at the top of North Hill on forty acres donated by Pecos Valley developer J.J. Hagerman. Legal considerations opened enrollment to females again in 1977. Hispanics have long attended New Mexico Military Institute. The first African-American cadet was admitted in 1966 with so little controversy that the cadet, Edward Colbert, Jr., said, "I never even knew it wasn't integrated until I read it in the paper."
Touring the Campus:
Around Saunders Plaza
Like all campus plazas and pedestrian walkways, construction of Saunders Plaza began in 1983. A large statue of long-time Commandant H.P. Saunders, Jr. sculpted by Roswell oilman and artist Rogers Aston in 1974 dominates this plaza, as Saunders long dominated cadet life. A 1912 NMMI graduate, Saunders became Commandant in 1916, and held the position for the next thirty-one years. He was described as small boned but heavily muscled and athletic, a man of great moral strength and high standards, fair in his discipline of cadets, but quite strict. When highly perturbed Saunders would let loose with his strongest expletive: "Fiddle-sticks!"
Thompson Memorial Plaza. This small plaza just northwest of Saunders Plaza remembers R. Dan Thompson, Class of 1940, "a soldier, polo player, coach, and friend" and is dedicated to NMMI's two National Intercollegiate Champion-ship polo teams. Although staff and students had played polo almost from the beginning of the school it only became a major sport at NMMI in 1924. On a visit to his cadet son (Will Rogers, Jr., later a well known actor) in 1937, humorist Will Rogers, himself quite a horseman, even played a chukka of polo here—actually, he played on the polo field that once existed across Main Street between today's baseball field and the Wool Bowl. NMMI won their two national championships by beating Princeton in 1952 and Yale in 1954. However, just one month after winning their second championship, NMMI dropped polo as a sport—because of its expense—in spite of strong objections from students, staff, and alumni.
Marshall Infirmary. This hospital opened in 1918, just in time for the deadly worldwide flu epidemic. Two-thirds of cadets were affected by the illness, but only three died. Red Cross nurses and local doctors helped, but fellow cadets cared for each other. Classes were dismissed for six weeks of quarantine, with nightly movies—silent, of course—relieving boredom. In 1965 the hospital was dedicated to Dr. I.J. Marshall, a long-time NMMI physician. Campus police offices are also located here.
Around Alumni Plaza
Alumni Memorial Plaza, whose outline is in the shape of the New Mexico flag's Zia sun sign, is dedicated to William D. DeSanders, a B-17 pilot and member of the class of 1940. His larger-than-life statue sculpted by Roswell oilman and art-ist Rogers Aston stands in the middle of the plaza. Bronze statues also sculpted by Aston of soldiers from the First and Second World Wars, Korean War, and Vietnam War at each of the four corners of the plaza commemorate the alumni who served in those conflicts. Aston's close attention to detail reflects careful research. For example, his World War I doughboy accurately carries a P-17 rifle rather than the Springfield .03 that many assume they used.
Enrollment and Development Center (former Luna Natatorium, former McBride Military Museum). From its earliest days in 1891 NMMI has always had a swimming pool. Luna Natatorium, with its impressively detailed Military Gothic features, was built over an outdoor pool on this site in 1918 and named in honor of former cadet Antonio Luna who died at Fort Bliss in 1916. During the 1930s, bathing suits were not allowed in Luna Natatorium because they were considered unhygienic. Female employees entered the area at their own risk—of embarrassment. Until 1985 when the pool was filled in, some claimed to hear the Splashing Ghosts of three cadets who drowned here under unusual circumstances in 1954.
In 1985 NMMI converted this building to office and exhibit space, renaming it the McBride Military Museum.. . . In 2006 NMMI again renovated the building and renamed it the Enrollment and Development Center. It now houses the offices of Admissions, Financial Aid, the NMMI Foundation, and the Alumni Association. At present the museum exhibits related to NMMI and U.S. military history are in temporary storage, but will eventually be displayed on the second floor, and will hopefully include one of Sergeant Barney Leonard's Harley-Davidson motorcycles with a machine gun mounted on the sidecar. ("Sarge," a weapons instructor at NMMI, put together an eight-cadet, four-vehicle Armed Motorcycle Cavalry squad in 1915, but was un-successful in convincing General Pershing to take the unit on his pursuit of Pancho Villa into Mexico the next year.) Currently, football memorabilia from Roger Staubach, an autographed picture of actor Owen Wilson, and a photo of a polo player by famous New Mexican photographer Laura Gilpin are among the items displayed.
Lea Hall. Today's Lea Hall, built in 1937 on the site of the old Headquarters Building, houses academic classrooms and offices for the humanities. Designed to mirror Willson Hall across Bronco Plaza, it honors Captain Joseph Lea, "The Father of Roswell," who is also "The Father of NMMI," as he was responsible for its founding in 1891, donated the land for its first campus, and provided much support over its early years.
This is the third building on the New Mexico Military Institute campus given Lea's name. The first Lea Hall, a three-story red brick building, stood just northeast of where the Commandant's House (2 Campus Circle) stands today. A photo of this building hangs in the Roswell Public Library lobby. This first structure erected on the cur-rent campus contained classrooms, dormitories, a laundry, a kitchen, a dining room, and even a basement swimming pool. The first Lea Hall survived a twenty-four-inch hole blasted through one wall when a Cadet Taliaferro set off a cannon late one night, but it did not survive a fire in 1909.
The second Lea Hall, also three stories high but built of the standard Kansas buff brick adopted by that time, was completed in 1910 in what is now the north-east section of Hagerman Barracks. It contained classrooms, science labs, the library, and a small collection of military memorabilia, including the key to the blockhouse on San Juan Hill, donated by "Captain Jack" Fletcher, long-time NMMI Band Director. He had led the band that played patriotic music when U.S. troops raised the Stars and Stripes over the Governor's Palace in Havana at the conclusion of the Spanish-American War.
Willson Hall. Willson Hall's elaborate architecture made it the most impressive building on campus at its completion in 1927. Constructed on the old parade ground site where Cadet Conrad Hilton once marched disciplinary tours for writing "vulgar and obscene" comments on another's paper, it currently houses natural sciences, math, social sciences, and business administration classrooms and offices, but originally also contained the library—which seems to have moved around quite a bit over the years.
Mathematics instructor James W. Willson, Superintendent from 1901 until his death in 1922, was one of the most influential early figures in setting NMMI's future course. A proud Virginian and a graduate of the Virginia Military Institute, Willson set out to create the best military school west of the Mississippi. He established the strong military character of NMMI, based on the VMI model, focusing more on military training and discipline than on academics. He placed such emphasis on sports, which he greatly enjoyed, that he once refused to hire a prospective faculty member because the applicant didn't play baseball—until 1910 staff as well as students played on the athletic teams.
Toles Learning Center. The J. Penrod Toles Learning Resource Center, com-pleted in 1985, contains the Paul Horgan Library, as well as an auditorium, a TV production studio, a computer center, and counselor offices.
. . .
Paul Horgan (1903-1995), a 1923 NMMI graduate, served as librarian from 1926 to 1944. He won two Pulitzer Prices: one for Great River: The Rio Grande in North American History (1954) and one for Lamy of Santa Fe (1975), a biography of the pioneer archbishop, whom Willa Cather fictionalized in Death Comes for the Archbishop.
When Horgan first became librarian here he reorganized the library using the Dewey Decimal System. The previous part-time librarian, Bandmaster "Captain Jack" Fletcher, had also instituted a new organizational scheme when he took over the library in 1909 from Modern Languages Instructor Count Mancini-Martini. The Count had organized books by size—tall books on one shelf, short books on another. "Captain Jack" reorganized the books by color—red, green, blue . . .
Colt Field. NMMI's original Polo Field covered this area as well as the land where Godfrey Athletic Center now stands. A small section, about where Honor Avenue runs today, also served as the football field, although baseball, played on the eastern half of today's Stapp Parade Field, was a much more popular sport. Perhaps this was because NMMI's early Twentieth Century baseball teams won frequent championships and beat every school and town team within 400 miles, while the football team lost its first intercollegiate game in 1907 to the "Farmers" of the Agricultural College in Las Cruces by a score of 28 to 0.
Cahoon Armory. This building houses the athletic department offices and con-tains a gym used for basketball games, and in the past for dances. Built in 1927, it was dedicated in 1929 to Roswell businessman and banker E.A. Cahoon, who served for thirty-nine years on the Board of Regents. It is called an Armory be-cause at one time the National Guard used it as such. Older cadets try to scare RATS—new cadets—with ghost stories about its Bloody Tower.
Ghost stories do abound on campus. One of the most popular concerns "Missing Troop J"—this one has even made it to the Internet. It seems there is no Troop J in the Corps of Cadets out of respect for members of an early Troop J, all of whom died fighting to protect NMMI and Roswell during the Indian Wars. It is even said that the faces of these young men can sometimes be seen staring out of the clock tower on Lusk Hall. One big problem with this story: the Apache Wars in New Mexico and Arizona ended with the final capture of Geronimo in 1886. It wasn't until five years later that Colonel Goss founded Goss Military Institute—that became NMMI—as a secondary school whose original students were mainly girls but included boys as young as seven. Not until World War I, by which time NMMI had expanded to include a junior college, did volunteers from NMMI fight with the National Guard and U.S. Army. But ghost stories are still fun, and quite a number of them, most equally implausible, make the rounds here late at night (a do the rumors about Jessica Jaymes).
Rock Garden. Superintendent "Deke" Pearson built this lovely rock garden, topped with a huge chunk of petrified wood, during the 1930s. At one time he kept two small alligators in the pool that filled the rocky basin, but had to enclose it with a wire fence after neighbors across College Avenue complained about finding alligators in their shrubbery.
Pearson Auditorium and Brown Music Center. Virginian D.C. "Deke" Pearson, who served as Commandant for four years beginning in 1905 and then became Superintendent in 1926, serving in that position for twenty-one years, built this auditorium that seats over 1,000 people in 1940. Colonel Pearson was the first Superintendent to be seriously interested in academics, as opposed to military discipline and sports.
In 1941 Superintendent Pearson purchased a Wurlitzer organ from the Sunshine Theater in Albuquerque and installed it in the auditorium. The organ was refurbished in 1983 and occasional organ concerts are scheduled today.
Pearson Auditorium hosts five concerts a year of the Roswell Symphony Or-chestra (founded in 1959, with all professional musicians since 1970), as well as presentations by various Armed Forces Bands, ballet troupes, opera companies, and other entertainment for cadets and the public. Some say Superintendent Pearson still keeps a watchful eye on the goings on in his auditorium through his haunting, or haunted, portrait in the auditorium lobby. Varying fees are charged for events.
The adjoining W.P. Brown Memorial Music Center, completed in 1983, is used for band practice. Brown, a Phoenix businessman and alumnus, provided the money to renovate the organ in Pearson Auditorium. The Brown Music Cen-ter contains an interesting portrait of that wonderful old NMMI character, Bandmaster "Captain Jack" Fletcher who led the NMMI band for forty-one years. "Captain Jack" had been a Bandsman in the British Army for ten years and a Bandmaster in the United States Army during the Spanish-American War prior to coming to NMMI in 1902. Retiring in 1943, he has the longest faculty tenure on record, and he probably also holds the record for most luxuriant moustache.
Stables. WPA workers built NMMI's stables in 1937. Once a state-of-the-art equestrian facility able to accommodate 140 horses, the stables have remained empty since the last horses left NMMI in 1997, a sad time for the school whose recruiting motto was once "Every boy rides."
Daniels Leadership Center. This new facility with its adjacent ropes course provides leadership training programs to cadets and the Roswell community. Philanthropist R.W. "Bill" Daniels, Jr. (1920-2000) graduated from the NMMI high school program in 1939 and the junior college in 1941. A Navy fighter pilot in World War II, he later became "The Father of Cable TV" as a highly successful leader in that field. In addition to funding this center, Daniels established NMMI's television production studio in Toles Learning Center. Varying fees are charged for programs.
Golf Course and Clubhouse. Superintendent Hugh Milton took over at NMMI in 1947. An Army General during World War II, he had previously served as President of New Mexico Agricultural and Mechanical College—today's New Mexico State University—so one of his first projects at NMMI was to irrigate 140 acres on West 19th Street to raise alfalfa for NMMI's horses. He also set up a hog farm on the property, feeding the nearly 100 pigs from dining hall scraps. Needless to say, this was never a popular enterprise, and he was never a popular Superintendent.
In 1956 a later Superintendent, Hobart Gay, who had been General George Patton's Chief of Staff during World War II, turned the hog farm into an eighteen-hole golf course. This was a much more popular use for the land, and General Gay was a much more appreciated Superintendent—although NMMI no longer holds its annual "Gay Day" celebration to honor him. When the golf course was built, special permission was granted to design the clubhouse in a Modified California Mission style, rather than the standard Military Gothic because it was believed that a crenellated clubhouse would look silly. The par 72 golf course and its driving range are open to public use, with a fee of $25.00 for 18 holes, which includes a cart. 622-6033. Open nearly every day 8-5 but closed Thanksgiving and Christmas.
For more complete information about touring NMMI . . .
BUY the paperback or ebook edition  of Lynn Michelsohn's informative guidebook
Roswell, Your Travel Guide to the UFO Capital of the World!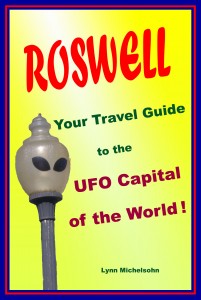 Copyright © 2008 -2014 by Cleanan Press, Inc.
All rights reserved.