History of Roswell, New Mexico on the Goodnight-Loving Trail
From the Jornado Mogollon to the Goodnight-Loving Trail to UFOs: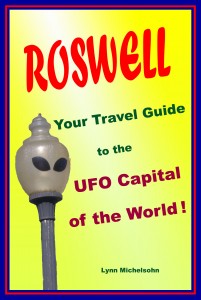 Pre-History
Ten to twenty thousand years ago ancient peoples including Sandia ("san-DEE-ah") Man, Clovis Man, and Folsom Man—all named after the New Mexico locations where their artifacts were first discovered—roamed the plains of eastern New Mexico hunting ice-age mammals.
By 100 AD their semi-nomadic descendents were cultivating crops of corn, then beans, squash, and cotton: a skill that spread north from central Mexico along with pottery making, weaving, and religious beliefs.
Then by 900 AD, the Jornada Mogollon ("hor-NA-da moggy-YAWN") people lived in small villages of pit houses and adobe structures throughout Southeastern New Mexico. In addition to small-scale farming, the Jornado Mogollon depended on the abundant bison in the fertile Pecos Valley for food and clothing materials. Beginning in the 1400s nomadic bands of Apaches and Navajos, then Comanches, moving into the Southwest from the Northern Plains replaced the Jornado Mogollon.
The Rule of Spain and Mexico
Spaniards Alvar Nunez Cabeza de Vaca in 1536, Francisco Coronado in 1540, and Antonio de Espejo in 1583 led the first European explorers into the Pecos Valley. All were just passing through. In 1590 Gaspar Castano de Sosa led an unauthorized group of 170 potential settlers up the Pecos River from Mexico to near Taos in Northern New Mexico, but he was promptly arrested for his efforts. (Easterners please note: all of this took place long before anyone ever heard of Jamestown or Plymouth Rock.)
The Roswell area was pretty much ignored by Europeans and Native Americans, other than roving bands of Apaches and Comanches, for the rest of Spain's rule of our region (until 1821) and throughout Mexican sovereignty (1821-1848).
Early Settlers in the American Era
The Roswell area and most of New Mexico became an American Territory in 1850 as a result of the 1848 Mexican War.
During the 1850s groups of Mexican farmers began to migrate north into this new area of the United States looking for better economic opportunities—sound familiar?
About 1865 a group of Hispanics already living in Northern New Mexico moved south and established a settlement 15 miles (24 km) west of today's Roswell on the Hondo River, a tributary of the Pecos River. They named their village—among other things—Plaza de Missouri, not because they were Missourians but because some had worked as freighters on the Santa Fe Trail, which originated in Missouri, and they thought this name would give their town "class."
Another group moving north from Mexico settled 15 miles (24 km) down the Hondo River at the site of the present-day Roswell neighborhood of Chihuahuita ("chee-hwah-HWEE-tah"). They evidently had fewer aspirations than their upstream neighbors and simply called their settlement Rio Hondo.
A third group of Hispanics settled a few miles to the northeast of Rio Hondo on another small tributary of the Pecos, and similarly called their settlement and river, El Berrendo ("beh-REN-doh"), which means "the mottled one," referring to the abundant herds of pronghorn antelope in the area.
Plaza de Missouri initially flourished by raising crops to supply Fort Stanton to the west, but as upstream farmers and ranchers diverted more and more water from the Hondo River for irrigation, their agriculture suffered. Settlers had abandoned the town by 1872.
El Berrendo also flourished until raids by renegade cowboys during the Lincoln County War routed out all of the settlers in 1878.
Rio Hondo managed to persist, but underwent substantial changes.
Cattlemen and Cowboys
After the Civil War, Manifest Destiny and the Homestead Act brought Americans westward in droves where they rapidly overwhelmed Hispanic culture in Southeastern New Mexico.
In 1866 Charles Goodnight and Oliver Loving brought their herd of Texas longhorns westward to the Pecos River at a point 200 miles (320 km) south of Roswell. From there they drove their cattle up the Pecos River through the Roswell area to Fort Sumner, 85 miles (135 km) to the north, and sold most of the herd to the United States Army to feed the (eventually) 9,000 Navajos and Apaches held in captivity at nearby Bosque Redondo ("BOS-kay reh-DON-doh"). Oliver Loving continued on northward another 450 miles (725 km) to Denver with the rest of the herd. Their Goodnight-Loving Trail became the standard route for cattle drives from southern Texas and New Mexico to markets farther north in New Mexico and in Colorado and Wyoming.
The following year, 1867, Texas cattleman John Chisum began driving his own cattle up the Goodnight-Loving Trail, acquiring land along the way in Southeastern New Mexico. He also drove herds from the Roswell area up the Hondo River to Fort Stanton, or on westward through the Organ Mountain Gap and across the plains of southern New Mexico to Arizona. This route became known as the Chisum Trail—not to be confused with the "Come a tie yie yippee, yippee yea" Chisholm Trail in Texas.
The Anglo town of Roswell got its start as a camping spot on the Goodnight-Loving Trail about that same time. Abundant water and grass where the Hondo River flowed into the Pecos River satisfied the herds. A trading post appeared, followed by gambling halls and other establishments designed to satisfy the hard-living cowpunchers. Professional gambler Van Smith purchased these few buildings from the original owner in 1869 and called the settlement "Roswell" after his father, Roswell Smith, establishing a Post Office here in 1873.
Anglo settlers, most with ties to the Old South, rapidly came to dominate Southeastern New Mexico, making it distinctly different from the rest of the Hispanic-dominated Territory and giving rise to its nickname, "Little Texas." In 1875 Chisum moved his headquarters to South Spring Ranch, four miles (6 km) southeast of "downtown" Roswell. First John Chisum, then Captain Joseph Lea ("LEE"), then many other settlers, established vast cattle empires throughout the area. Cattle ranching dominated Southeastern New Mexico from 1870 through 1900. The Lincoln County War from about 1878 to about 1881, fought between two rival factions each trying to establish economic dominance, took its toll here but made Billy the Kid and our Sheriff Pat Garrett famous.
Artesian Water, Agriculture, and the County Seat
After the discovery of artesian water in Roswell in 1890, agriculture grew in importance and Roswell's population boomed. Now that abundant water was available for irrigation, cotton and alfalfa farming began to develop, along with vast apple orchards. When the railroad arrived in 1894 it brought even more new settlers, as well as "lungers"—TB patients looking for a therapeutic climate. The railroad also allowed export of agricultural and ranching products. About this time cattle ranching declined here because of drought, overproduction, and the end of the open range, but sheep ranching and the wool industry grew.
As the county seat of newly formed Chaves County—carved out of Lincoln County in 1889—Roswell attracted lawyers as well as bankers and merchants. Settlers also moved here because of its educational opportunities: good public schools, then the New Mexico Military Institute and much later, Eastern New Mexico University at Roswell. Roswell rapidly became the agricultural, commercial, political, and cultural center of Southeastern New Mexico.
The Oil Patch
Wildcat oil drilling moved west from Texas into New Mexico in the 1920s. Early wells produced signs of oil, but not until 1924 did wildcatters bring in their first gusher near Artesia, 50 miles (80 km) south of Roswell. Over the next few years it became clear that eastern New Mexico was an important part of the Oil Patch—the Permian Basin Oilfield that underlies eastern New Mexico and western Texas. Roswell developed as a business center for oil field exploration and production companies, and as a place for roughnecks and roustabouts, like cattle punchers before them, to spend their hard-earned money.
The Military
The Great Depression interrupted steady growth in Roswell during the 1930s as it did everywhere else, but the economic boom resumed with World War II, helped by the establishment of Roswell Army Air Field just south of town in 1941. The RAAF trained pilots and bombardiers throughout World War II. After the Air Force became independent from the Army in 1947, the RAAF became Walker Air Force Base, an important Strategic Air Command location.
From Struggling Little Town to the Hub of Southeastern New Mexico
Roswell lost one-third of its population when Walker Air Force Base closed in 1967. Economic recovery was slow, but an initiative to promote Roswell's warm climate and low cost of living to retirees aided growth. The facilities of the former Air Force base were developed as the Roswell Industrial Air Center, attracting light manufacturing and businesses related to air transportation.
Fruit orchards had declined in the 1930s after a severe freeze but agriculture remained strong. Important crops in Roswell today include cotton, alfalfa, chile, and in recent years, pecans. Dairy farming has grown steadily over the last 20 years.
Tourism, based primarily on Roswell's status as the world's premier UFO site, increased steadily after publicity surrounding the 1997 Fiftieth Anniversary celebration of the Roswell UFO Crash. Talk of an alien-themed amusement park and resort complex promises even greater growth.
Roswell moves into the Twenty-First Century promoting itself as the Hub of Southeastern New Mexico. Its historical enterprises of ranching and farming, oil and gas, business and commerce, education, and medical care continue strong today, while tourism is rapidly becoming a major economic force.
To read more about the history of Roswell . . .
BUY Roswell, Your Travel Guide to the UFO Capital of the World!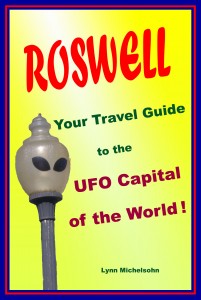 Copyright © 2008 -2014 by Cleanan Press, Inc.