Roswell, New Mexico – UFO Capital of the World!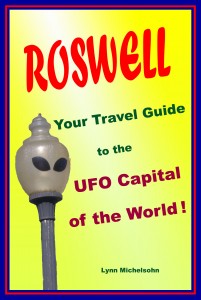 (Roswell High School, Fox Place, South Springs Ranch, Bottomless Lakes, South Park Cemetery and so much more)
Roswell, New Mexico—East and Southeast
Some of Our Attractions:
"The Silver Dome" Bargain Barn (301 East 2nd Street). From 1939 to 1964 the Roswell Cotton Oil Company used this structure as part of a cottonseed processing operation located in several buildings in this area. Cottonseeds "ginned" from the cotton (separated from the white fibers) were stored in this huge space while waiting to be processed in the next building to the south where machines crushed the seeds, extracted the cottonseed oil, and compressed the remaining hulls into solid cakes to use for cattle feed. The imposing "Silver Dome" has served many purposes over the years. Today's owners use it as a second hand store for furniture, appliances, and miscellaneous "stuff." It's worth a visit just to step inside the cavernous dome—or to check out their selection of deer and elk antlers. 627-7411. Open M-Sat 10-6, closed Sun.
Hagerman Canal (5 miles—8 km—east of Main Street). Lincoln County Sheriff Pat Garrett became famous after killing Billy the Kid in 1881—partly because of his own book, The Authentic Life of Billy the Kid—but many questioned the way he had shot Billy. Leaving law enforcement, Garrett moved his family from a ranch near the town of Lincoln back to his ranch (not currently accessible to the public) four miles (6 km) east of downtown Roswell that he had previously homesteaded in 1880. Here he and his wife reared their seven children.
In 1888 Pat Garrett joined Carlsbad wheeler-dealer Charles Eddy and several others to begin constructing the Northern Canal—now called the Hagerman Canal—as a part of a grandiose scheme to make a fortune by bringing irrigation water from the Hondo River to farmlands south of Roswell. They built a diversion dam on Garrett's ranch and began digging the canal using plows, graders, and scrapers pulled by horses and mules. The expense proved too great however, until wealthy Pecos Valley developer J.J. Hagerman finally invested in the company, but even he didn't finish the canal that eventually stretched southward thirty miles (50 km) until 1895. Although Pat Garrett had conceived the idea, Hager-man gradually took over the company and forced Garrett out, but Hagerman ended up losing much of his own fortune in the scheme. Today the canal endures, still providing irrigation water to Pecos Valley farmers south of Roswell.
When Chaves County split off from Lincoln County in 1889, Pat Garrett hoped to return to law enforcement by running for Sheriff of the new county. He lost the election so he continued to concentrate on ranching in Roswell and Texas for several years, with variable success. In 1896 he moved to Las Cruces and be-came Sheriff of Dona Ana County, then Teddy Roosevelt appointed him Customs Collector in El Paso in 1901. Garrett returned again to ranching when he lost that job. He died in a controversial incident in 1908; his alleged killer, Wayne Brazel—cousin of the man who would first report finding the 1947 UFO crash—was ac-quitted of the murder.
Currently, plans are underway to erect a statue of Pat Garrett by Texas sculptor Robert Summers in the area across Virginia Avenue from the Chaves County Courthouse.
Pecos River (7 miles—12 km—east of Main Street). The 900-mile-long (1,450 km) Pecos River begins as a clear mountain stream in the Sangre de Cristo Mountains of Northern New Mexico. It flows due south, picking up silt as it travels through the High Plains down to Roswell. One small dam near Fort Sumner, 85 miles (137 km) north of Roswell, interrupts its flow and farmers divert much of its water for irrigation so that most of the year shallow channels of muddy water wind between banks and bars of red mud here near Roswell, but it can fill up during spring runoff.
Although they brag about him much more in Texas than they do here (isn't that always the case?) the Southwest's "rootin-est, tootin-est cowboy," Pecos Bill, whose exploits rival those of Paul Bunyan in the North Woods, took his name from this muddy river. Some say his legend grew out of tales told by cowpunchers trying to outdo each other around evening campfires.
The first bridge over the Pecos River in the Roswell area was built in 1902 about one and one-half miles south of where the highway crosses the river here. Prior to that, the only nearby way across the river was on a ferry operated by Juan Chaves y Lopez (1826-?), or by fording the stream during low water—both dangerous undertakings because of currents and quicksand.
Double-ended quartz crystals called "Pecos Valley Diamonds" are found in the weathered Permian rocks just east of the Pecos River. They come in all sizes, from tiny single crystals to fist-sized clusters. Sandy areas along the river are the best places to hunt for them—watch for rattlesnakes! The best places to find them are in the Historical Center Gift Shop or at the Chaparral Rockhound Society's Gem and Mineral show in June.
In frontier days the Pecos River defined the limits of Eastern civilization. In fact, "to Pecos" a person became a well-known phrase—and solution—around early Roswell. It meant to dump a formerly troublesome fellow, often a rustling varmint, into the river—as a way of disposing of the body. "Law West of the Pecos" in towns like Roswell was often non-existent, and when it appeared, Justice was swift and absolute. One example: In 1878 one of John Chisum's young cow-boys shot and killed his crew boss near here for reasons unknown. Chisum assembled a jury of other cowhands on the spot and presided over the trial himself. The jury found the boy guilty of cold-blooded murder and Chisum pronounced sentence. There were no trees in the vicinity so the cowboys propped up a wagon tongue and tried a rope to it. They sat the boy on a horse, tied the rope around his neck, and led the horse out from under him.
Some of that frontier mentality remains today. Not too long ago a young Chaves County lawyer asked an experienced judge why he had sentenced a car thief to more time in prison than another man convicted of killing his neighbor in a water dispute. "Some men just need killing," the veteran judge replied, "but there are very few cars that just need stealing."
Comanche Hill (8 miles—13 km—east of Main Street). Roving bands of Comanches, the Shoshone group that gave this bluff its name, moved south from Wyoming and reached Texas and New Mexico by the 1700s where they quickly became fine horsemen after obtaining the animals from the Spanish. Known as fierce fighters, these nomadic bison hunters raided other native groups, especially Pueblos, Navajos, and Apaches, as well as Hispanic and Anglo settlers.
In the early days, the Pecos River formed a general dividing line here in Southeastern New Mexico between Apaches who usually stayed to the west and Comanches who roamed to the east. Before 1875 when the United States Army interned the last bands of Comanches at Ft. Sill, Indian Territory (later Oklahoma), Comanche Hill marked the beginning—or the end, depending on which way you were traveling—of fearful Comanche territory.
Bands of white gypsum, some of it grading into harder but easily sculpted alabaster, appear in the road cut here. This high point on the edge of the Permian limestone plateau east of Roswell provides a nice view of the Pecos Valley and the Roswell area, especially after dark when their lights are twinkling.
Nancy Lopez Elementary School (1208 East Bland Street). Nancy Lopez, the first Hispanic LPGA Champion, won a total of forty-eight Ladies' Professional Golf Association tournaments after becoming Rookie of the Year in 1978 and Player of the Year in 1978, '79, '85, and '88. She still plays occasionally in tournaments and exhibitions.
Born in California in 1957, Nancy Lopez was the daughter of Mexican immigrants Maria and Domingo Lopez. The family moved to Roswell when she was a child, where her father operated the East 2nd Street Body Shop (615 East 2nd Street, no longer standing) and the family lived at 1103 East 1st Street. Lopez played golf with her parents at the (then) rather primitive Roswell Municipal Golf Course, now the Spring River Golf Course adjacent to Cahoon Park. She later explained to sports writers that as Hispanics her family was not allowed to join the nicer Roswell Country Club. She managed to win the New Mexico Women's Amateur Championship in 1969 at the age of twelve anyway. It took an ACLU challenge to the School Board to gain her a spot on the Goddard High School golf team however—not because she was Hispanic but because she was female, as there was no girls' team at that time. When she was finally allowed to join the boys' team, they won two state championships.
In spite of these difficulties Lopez described growing up in Roswell as "wonderful." Attitudes have changed some since her childhood. A sign in the Goddard High School cafeteria now proudly proclaims, "Nancy Lopez ate here," and in 1991 the School Board changed the name of Flora Vista Elementary School that Lopez attended as a child to Nancy Lopez Elementary School.
El Charro Mexican Food Industries (1711 South Virginia Avenue). Fresh tortillas and other Mexican food products, as well as a peek inside a tortilla factory, are available here at Southeastern New Mexico's oldest Mexican food company. 622-8590. Open M-F 8-5, Sat 9-2, closed Sun and holidays.
Antonio Trujillo (1910-1982) and his wife Aida (1915-2008) opened their first tortilla factory in the garage of their small house on Deming Street across from Missouri Avenue Elementary School in 1949. At that time tortillas were hardly known and rarely eaten by Anglos, while Hispanic families made their own at home. The Trujillos bought a machine that could produce 80 dozen tortillas an hour. Fortunately for their business, it also produced a whistling noise that attracted curious children on their way home from school. The Trujillos gave them free samples to taste and to take to their families, and before long Anglo as well as Hispanic families were buying El Charro tortillas to use in tasty dishes that Aida helped popularize. As the business expanded and they opened additional tortilla factories in Lovington and Amarillo, the Trujillos became active in civic affairs and won numerous awards over the years.
Today, grandson Michael Antonio Trujillo operates the company that now employs 18 workers and produces 4,000 dozen tortillas an hour from corn grown in Muleshoe, Texas. Carrying on his other family tradition of civic involvement, Trujillo serves as Chaves County Commissioner and even performed his duties long distance while serving with New Mexico National Guard's illustrious 200th Air Defense Artillery in Iraq throughout 2006.
Bottomless Lakes State Park (East on 2nd Street 12 miles—20 km—then south on NM 409 3 miles—5 km). Ground water dissolved gypsum, salt, and even some of the limestone itself from the Permian limestone plateau east of Roswell over the centuries, creating passageways and caverns along fissures in the rock. When large underground cavities collapsed they formed sinkholes in the flat surface topography. Seven of these striking water-filled sinkholes make up Bottom-less Lakes State Park—New Mexico's first state park—built here by Civilian Conservation Corps workers from the Bitter Lakes CCC Camp (a New Deal pro-gram to provide work and training to young men during the Depression) during the late 1930s.
Cowboys called these small round lakes bordered by red bluffs "bottomless" because, as Billy the Kid once explained to a curious newcomer, he and some of his friends could not find the bottom, even when they tied their picket ropes together and put a weight on the end. Billy knew this area well. During the Lincoln County War he hid out in caves here, with help from John Chisum's nephew Will Chisum, while his wounds healed after Deputy Sheriff Matthews—later a Roswell Postmaster—shot him when Billy ambushed and killed Sheriff Brady.
The park provides hiking, camping, fishing and, in the summer, swimming and paddle-boating. Watch out for rattlesnakes! A small Visitor Center presents occasional evening nature programs during the summer, and the Bottomless Triathlon takes place here in July. Scuba classes use 90' (32 m) deep Lea Lake for training and certification dives. 624-6058.
Dairy Farms (East of the highway). Roswell calls itself "The Dairy Capital of the Southwest" with more than fifty dairies operating along the Old Dexter Highway between Roswell and the small town of Dexter 15 miles (24 km) to the south. Abundant cattle feed along with low operating costs brought dairy operations here beginning in the 1980s. Now, wealthy dairy operators are rapidly joining ranchers and oilmen as the "aristocracy" of Roswell.
Throughout the Oil Patch, noxious fumes from oil wells and refineries have traditionally been described as "the smell of money." Today in Roswell, when the wind and humidity are right, a "dairy odor" wafts through town as the new "smell of money."
Jinglebob Land and Livestock Company (former South Spring River Ranch) (at Brasher Road). John Chisum, "Cattle King of the Pecos," (p 46) moved his vast cattle empire headquarters here to South Spring River Ranch along the South Spring River in 1875. He constructed a large adobe house, along with barns, bunkhouses, and other ranch buildings, then began breeding short-horned cattle and experimenting with growing alfalfa and various grains. The "Jinglebob Ranch," as it was nicknamed because of the distinctive earmark Chisum used to identify his cattle, was a social center for all of Southeastern New Mexico. Billy the Kid worked around the ranch for a time before the Lincoln County War and was rumored to have carried on a romance with Chisum's attractive niece, Sally Chisum, who served as ranch hostess.
After Chisum's death in 1884 other family members proved to be poor managers and his cattle empire dissipated. Mining and railroad millionaire J.J. Hagerman bought South Spring Ranch (he and subsequent owners dropped "River" from the name) in 1900 after ten years of developing irrigation and rail-road projects in the Pecos Valley. Hagerman planted large fruit orchards on the land and shipped railroad cars of apples to markets "back east," as can be seen in photos hanging in the Roswell Public Library lobby. He also raised cattle but his cattle business was more of a costly hobby than a successful enterprise. Hager-man demolished most of the original Chisum buildings and constructed his own three-story red-brick mansion on the property, along with other ranch buildings. A barn and the mansion—with the top two stories removed—are just barely visible in a grove of trees about one-half mile east of the highway a little south of Brasher Road. The main entrance to the ranch is a little farther south.
After Hagerman's death in 1909 the ranch passed through several owners. In 1968 Roswell oilman Robert O. Anderson purchased South Spring Ranch and family members lived here for a time. The current owner, Tom Visser, continues to raise cattle that still carry the Jinglebob earmark, but like most everyone else, he is also planting pecan orchards. Irrigation wells have dried up the springs that fed the South Spring River, so that today all that remains are the two dry river beds (one for each of the two forks that joined between the highway and the ranch house) that cross the highway between Brasher Road and East Grand Plains Road. Peter Hurd's mural Round Up at South Spring 1875 in the Student Services Center at ENMU-R gives a good idea of what the ranch must have looked like when the South Spring River was full and flowing. Tours charge a small fee to visit the ranch during Old Chisum Days in June.
Leprino Mozzarella Factory (5600 Omaha Road). Leprino's multi-story factory is visible to the west where the highway crosses East Grand Plains Road. At night its brightly lit structure looms eerily in the dark countryside like a freighter arriving from some unknown galaxy.
The large number of dairy farms in the Pecos Valley brought Leprino Foods to Roswell in 1994. This world's largest Mozzarella factory—Roswell's largest private employer—produces 600,000 pounds of pre-shredded, quick-frozen cheese each day from six million pounds of milk. Nearly 500 workers keep the factory operating 24 hours a day, seven days a week, completing the entire process from pasteurizing the incoming milk to packaging and shipping the frozen shredded cheese to commercial buyers. Workers even process waste materials, separating out clean water to use for irrigation and solid waste to become fertilizer. No retail sales of its cheese are available but the Leprino Mozzarella Factory is open for tours for a small fee during the Chile-Cheese Festival in September. 347-9998.
For more complete information about touring Roswell . . .
BUY the paperback or ebook edition  of Lynn Michelsohn's guidebook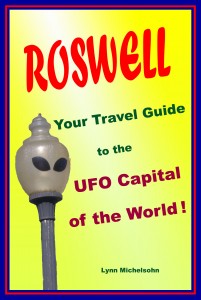 Roswell, New Mexico—South and Southwest
Some of Our Attractions:
St. Peter's Catholic Church (805 South Main Street). Franciscan priests organized this parish in 1903 for Roswell's Anglo Catholics. The congregation first met in an old soda-water bottling plant at either 911 South Main Street or 3rd Street and Virginia Avenue (accounts differ). In 1904 the congregation laid the foundation for the current building and met here in the enclosed basement until they completed the above-ground structure in 1917. St. Peter's opened a parochial school in 1905 with eight grades staffed by lay teachers and the Sisters of St. Cisinni from Chicago. It closed in the 1960s due to financial problems and difficulties getting teachers. Roswell's Community Kitchen serves a free lunch every weekday at St. Peter's Community Center, 111 East Deming Street.
Ballard Funeral Home (910 South Main Street). Prosperous Roswell merchant Nathan Jaffa built this large house in 1903 and moved his family here from their home on South Richardson Avenue. In 1942 Bert Ballard, nephew of Sheriff Charles Ballard who led the Roswell area Rough Riders in 1898, purchased this house and transferred his undertaking business here from its previous location on Third Street. He later enlarged the building and added the white columns. Glenn Dennis was working here in 1947 when he received calls from the RAAF Mortuary Officer concerning small coffins and the preservation of bodies in the days following the UFO Crash.
Chaves County Administrative Offices: Joseph R. Skeen Building (St. Mary's Hospital site) (1 St. Mary's Place). The County Assessor and Appraiser, County Clerk, County Manager and Commissioners, Public Works Department, and Sheriff's Department occupy this newly constructed (2002) building named in honor of the long-time Congressman from southern New Mexico. Its green dome is reminiscent of the Chaves County Courthouse downtown. Genealogists and others interested in land records for Chaves County will find them here.
Previously, St. Mary's Hospital stood on this site. Four nuns of the nursing order Sisters of the Sorrowful Mother arrived in Roswell in 1904 and built the first portion of St. Mary's Hospital here in 1906 through contributions of land, labor, and money from the community. It originally functioned as a tuberculosis sanitarium for the many "lungers" who had come to the Pecos Valley seeking health in a warm, dry climate. The first patient was a Franciscan priest. Gradually the hospital took on general patients, eventually having the usual medical, surgical, pediatric, obstetrical, psychiatric, and emergency room areas.
Henry John Deutschendorf, Jr. was born in St. Mary's Hospital in 1943 while his father was stationed at Roswell Army Air Field as a pilot instructor. Deutschendorf died in an aircraft accident in 1997 after becoming famous as singer John Denver, who wrote the Colorado State Song, "Rocky Mountain High," as well as "Take Me Home, Country Roads" and many others. Demetria Gene Guynes, now actress Demi Moore, star of A Few Good Men and Ghost, was born here in 1962, attended El Capitan Elementary School (2807 West Bland Street) and Sierra Middle School (615 South Sycamore Avenue), and occasionally returns to Roswell to visit relatives. Jockey Mike E. Smith, who rode Giacomo to his win in the 2005 Kentucky Derby, was also born here in 1965.
Chaves County purchased St. Mary's Hospital in 1989, then combined it with Eastern New Mexico Medical Center, which the County had opened in 1955. St. Mary's Hospital buildings were demolished in 1999. Statues of the Virgin Mary and Bernadette, the shepherdess who saw her in a vision at Lourdes, were moved from a small stone grotto here on the grounds to a similar grotto at Assumption Catholic Church (2808 North Kentucky Avenue) at that time.
South Park Cemetery (3101 S. Main Street). Roswell's earliest cemetery was located in the Chihuahuita neighborhood just south of the Hondo River in the 1860s, although at that time family members often buried relatives in small private plots as well. The Anglo ladies of Roswell established a Cemetery Association in 1886 to care for the burying ground already established in this area by that time. The oldest marked grave here belongs to Captain Joseph Lea's niece, Sophie Pierce, who died in 1883. Chihuahuita's early graves were moved to this location in 1894 to make way for the Pecos Valley Railroad. Roswell ladies held fundraisers involving fortunetellers, flower stands, and plays at the (very short-lived) Opera House for the upkeep of this cemetery and continued to support it even after the City took over in 1915 and changed its name from South Side to South Park Cemetery.
Men and women prominent in Roswell's history buried here include Captain Joseph Lea, Elizabeth Garrett, E.A. Cahoon, Bob Crosby, John and Sophie Poe, J.P. and Amelia Church, Addison Jones, James Stockard, and Jim Hinkle. Kenny is not buried here.
A Memorial Day ceremony takes place here every year with Boy Scouts placing small American flags on the graves of all veterans, a practice that has continued since at least 1917 when Boy Scout Troops 1 and 2, including bugler and future artist Peter Hurd, came here to honor veterans.
In 2000 two English teachers from Mesa Middle School, Valarie Grant and Heidi Huckabee, organized their seventh- and eighth-grade classes to research and preserve information about Roswell's past. The resulting collection of short biographies of some of Roswell's citizens buried here, South Park Cemetery: Exploring Roswell's Roots, along with a free and quite interesting cemetery walking tour brochure, Walking Through Roswell's Past, are available at the Historical Center and the Roswell Visitor's Center.
Garcia Law Firm (former Amonett house) (106 North Washington Avenue). The Amonett family built this stucco New Mexico Vernacular style house in 1929 and E.T. (for Elijah Thomas, not Extra-Terrestrial) Amonett, by himself or with his son Edd (1892-1963), Edd's wife Nettie, and their daughter Jean, lived here off and on until 1945. E.T. Amonett had opened a boot shop and saddlery at 122 North Main Street in 1898 although it later moved to 210 North Main Street before Edd took over the successful business in 1913 when E.T. and his wife moved to El Paso. Items from this famous boot and saddle maker that remained in business until 1978—although Edd sold the business and retired in 1949—still appear on eBay.
This house remained a residence until 1983 when Roswell attorney Ramón Garcia took it over for his law offices. Over the years a dentist, a physician, a secretary, several military families, and the manager of the Dairy Queen just down the street lived here. At least one of the former residents doesn't seem to have left, as items in the former dining room, now one of the offices, are often mysteriously rearranged and noises sometimes come from the room when it is empty. One client asked about the odd lady wearing such old-fashioned clothes that she had seen standing in there, suggesting that the ghostly presence may be an early resident, perhaps even Nettie Lusk Amonett (1894-1982) who grew up on a ranch in the Sacramento Mountains west of Roswell with an unusually independent spirit: riding horses, breaking broncos, and herding cattle with her older brother Ewing Lusk, long-time principal of NMMI's High School Division. Does she still keep an eye on the place that was her home for so many years—and may still be?
Sierra Blanca Peak (looking west on West McGaffey Street, or any of the east-west streets in this area). Violent volcanic eruptions 35 million years ago created this cone-shaped mountain 90 miles (145 km) west of Roswell, the tallest mountain in southern New Mexico. In winter, snow-covered Sierra Blanca certainly lives up to its name when the strikingly white peak stands out against blue sky and brown hills.
Roswell High School (500 West Hobbs Street). Roswell's oldest high school began as a division of Central School on Kentucky Avenue and graduated its first class—of three students—in 1901. It became Roswell High School and moved to a separate building designed in the Rapp brothers' Military Gothic style at 500 South Richardson Avenue in 1911. All that remains of that first Roswell High School building are the gymnasiums and a few rooms at the Yucca Recreation Center. This current Roswell High School building, completed in 1954, bears little resemblance to the earlier building, or to the series of Roswell High School teen novels and the TV show of the last few years inspired by the UFO craze. Tourists and other aliens still like to have their photos taken in front of the RHS Coyotes sign out front though.
Martin Luther King Jr. Park (2701 South Union Avenue). Roswell's annual Juneteenth Celebration takes place in this park named for the famed Civil Rights leader. Juneteenth began as a celebration of Freedom when long-delayed news of the Emancipation Proclamation reached slaves in Galveston, Texas, on June 19, 1865. The first Juneteenth celebrations in the Roswell area took place in Blackdom, a town African-American homesteaders founded 16 miles (25 km) south of Roswell in the early years of the Twentieth Century. The town died out in the 1920s due to lack of water for agriculture, but the mid-June commemoration continues. Lots of good food is still the main feature of Roswell's Juneteenth Celebration that today honors unity and multiculturalism in New Mexico, in addition to the end of slavery.
Randy Willis Park and Championship Field (2100 South Sunset Avenue). When the Roswell Lions Hondo baseball team won the Little League World Championship in Williamsport, Pennsylvania in 1956 they renamed their home field, just south of Roswell High School on Lea Avenue, "Championship Field." As the baseball program grew in size, it needed more space. In 1967 the Lions Hondo Little League moved to this park and brought along its bleachers and fencing as well as the "Championship Field" plaque. The entire park was later named in memory of Randy Willis, a member of that World Champion Little League team who died of leukemia in 1980, as a plaque at the base of the flagpole indicates. This remains the home field for the Lions Hondo Little League, one of three such organizations in Roswell. Photos and memorabilia from the 1956 World Championship Team are on display in the Historical Center.
Fox Place (Roswell Relief Route at Brasher Road). In the area just south of Brasher Road the Relief Route passes over Fox Place, an archeological site no longer visible as it is now buried underneath the roadbed. The Jornada Mogollon people occupied the pit house village here along the Hondo River continuously from 1250 AD to 1325 and then sporadically until 1425.
The foundations of several small pit houses, along with pens for domesticated turkeys, were uncovered in constructing the Relief Route. During the subsequent archeological dig an underground kiva-like room also emerged with an amazing 15' (5m) long green clay painting of a Feathered Serpent covering two of the walls: most likely a religious shrine.
After archeologists finished studying Fox Place they covered the remains, and construction of the Relief Route continued on top of the site. Still, driving along this stretch of the road, one can imagine a Mogollon family gazing to-ward the same hills and mountain peaks we see today, or following the chants of their shaman-artist as he prays to the Feathered Serpent in their under-ground kiva.
For more complete information about touring Roswell . . .
BUY the paperback or ebook edition of Lynn Michelsohn's guidebook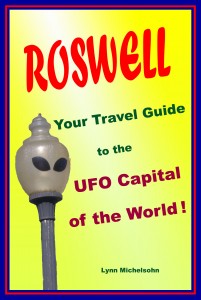 Copyright © 2008 -2014 by Cleanan Press, Inc.
All rights reserved. .