Male and Female Victims of Child Molestation, Rape, and Incest Ask  . . .
[A selection from Dr. Lynn Daugherty's classic bestseller, Why Me?  Help for Victims of Child Sexual Abuse (Even if they are adults now), 4th Edition]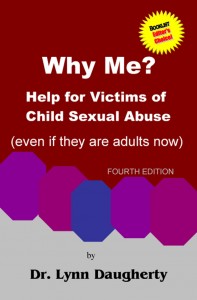 What is sexual abuse?
Sexual abuse takes place any time a person is tricked, trapped, forced or bribed into a sexual act. It most often involves unwanted touching of the male or female victim. Child sexual abuse may be called child molestation, child rape or incest.
Why is sexual abuse wrong?
Sexual abuse (molestation, rape or incest) is wrong because it hurts people! Sometimes it hurts the victim physically. More often it causes the victim to suffer psychologically. It can cause mild to severe problems with fear, confusion, anger, shame, depression and lowered self-esteem for the victim. It can also cause other serious problems later in life. Most males and females who were sexually abused as children go on to lead satisfying and productive lives, but many still suffer from the effects of child molestation, child rape or incest in some way, even years later.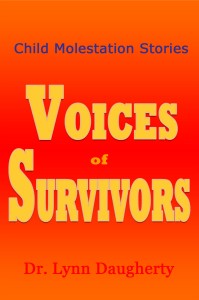 Each person's body is special and belongs to that person alone. Each person has the right to decide who can touch his or her body, when it may be touched and how. Sexual abuse violates the right of each person to make important decisions about his or her own body.
What happens during child sexual abuse?
Sexual abuse may include any type of sexual activity. It can range from forcible rape to gentle, but unwanted, touching. Being unwillingly exposed to the genitals of another or forced to show one's own genitals to someone else is also a form of sexual abuse.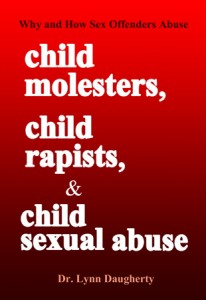 Who sexually abuses children?
Children are usually abused by someone older than themselves. Often the person is in some position of authority over the child. This may be an adult stranger, a parent or step-parent, an aunt or uncle, a grandfather or grandmother, a teacher or an adult friend. It may be a teenage babysitter, an older cousin or an older child in the neighborhood. Eight out of ten child victims are sexually abused by someone they know and trust rather than by a stranger.
How does child sexual abuse happen?
Although violent sexual attacks of children sometimes take place, the sexual abuse of children usually involves more subtle force. This may be threats of harm or threats of "telling on" the child for some misdeed. Other times the child may be bribed with gifts or special privileges.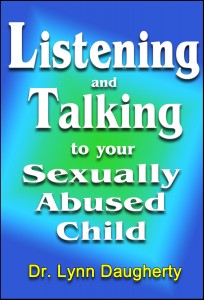 Children are often tricked into unwanted sexual contact. This may involve games that start out as fun and end with unwanted contact. Sometimes the older person tricks the child by telling him or her that what they are doing is "OK" or that "everybody" does it, or that it is for the child's "own good."
The sexual abuser's power, knowledge and resources are greater than those of the child victim. He or she exploits this difference to take advantage of the child.
From a more academic standpoint, Dr. David Finklehor's Four Pre-Conditions Model explains in detail how child sexual abuse can take place.
What different patterns of child sexual abuse occur?
Three patterns of child sexual abuse occur. These patterns have different effects on the victim.
Brief incidents
This type of sexual abuse may happen only once to a child. The abuser may be a stranger or an acquaintance. The abuse occurs as an isolated incident. A stranger may expose his genitals to a child who is walking down the street. An acquaintance may try to touch the child's genitals while in a movie. A child may be kidnapped and raped. Both male and female children are commonly the victims of brief incidents of sexual abuse.
Continuing relationships
This type of sexual abuse occurs as a part of an ongoing relationship. The abuse starts gradually and continues for weeks, months or years. The abuser may be a neighbor who invites the child to his house to play regularly. It might be a teacher, pastor, camp counselor or family friend. The victim may be male or female.
Incest
In this type of sexual abuse, the abuser is a member of the child's immediate family, usually a stepfather or older brother. The victim is most often female but may also be male. The abuse usually begins gradually but happens more often as time goes on. The abuse may go on for years until someone outside the family discovers it or until the child grows up and moves out of the house.
How do people use the Internet to sexually abuse children?
Some abusers find their victims on the Internet. They use chat rooms or websites to meet children and gain their trust. Then they may exchange sexual messages or pictures with their victims, or arrange face-to-face meetings to abuse them.
Abusers who exploit children through prostitution or pornography sometimes use the Internet to find other abusers who will use their services. They also use the Internet to find children to abuse through prostitution or pornography.
Some abusers use the Internet to meet other abusers. They share their views about child sexual abuse, ideas about how to find and abuse children, information about specific victims, or suggestions about how to avoid being caught or punished for their crimes.
How many children are victims of sexual abuse?
Statistics suggest that as many as one child in every three or four in the United States becomes the victim of sexual abuse by the time he or she reaches the age of 18. At least 25% of adults were victims of child sexual abuse. This means that millions of adults in the United States today were sexually abused as children.
At what age are children sexually abused?
Children may be abused at any age from infancy to adolescence. The most common age for sexual abuse to begin is age nine. Most sexual abuse is reported by teenagers, but they have usually been victimized for many years before finally reporting the abuse. Most sexual abuse, particularly that involving a continuing relationship or incest, starts before the child reaches puberty.
Are boys ever sexually abused?
Both boys and girls are the victims of sexual abuse. Girls are probably victimized more frequently. Approximately ten percent of all victims reporting sexual abuse are boys, but probably many, many more are abused.
Why doesn't the child victim report being sexually abused?
There are many reasons why children don't report that someone has sexually abused them. The very young child may not realize that the abuser is doing anything wrong. Children are taught to obey adults. The child may not realize at first that he or she should object.
Later the child may not tell anyone because of fear. He or she may fear the abuser or fear not being believed. The child may fear that he or she will be punished or blamed for the abuse or that some harm will come to the abuser. The victim of incest may fear that the family will be broken up if anyone finds out about the abuse. He or she may work very hard to keep it a secret.
Another reason that children don't tell anyone they have been sexually abused is because of their own feelings of shame and guilt. Child victims often believe that somehow the abuse is their fault.
Sometimes when children try to report sexual abuse, they are not believed. They then give up trying to tell anyone else. This is especially true if it is a parent who does not believe the child.
Do people ever forget being sexually abused as children, and then later remember these experiences?
One way the human mind protects itself from overwhelming emotional pain is by "forgetting" (repressing) bad memories. People who have been through extremely frightening or painful experiences, like wartime combat, natural disasters, torture, or sexual abuse, sometimes "forget" these experiences.
Later these painful memories may come back. This most often happens when the person feels strong enough to deal with the emotional pain of the traumatic event.

Can people ever have "false memories" of child sexual abuse?
People often remember the details of their experiences incorrectly. Sometimes people "remember" events that they imagined, or that someone convinced them really happened when it didn't. Although some people disagree, nearly all mental health professionals believe that most memories of child sexual abuse are true and generally accurate, however.
Why do people sexually abuse children?
Sexual abusers usually don't want to hurt the children they abuse. In fact, they often like children and try to please them. Many times abusers don't realize how much harm their behavior causes.
Many abusers are very self-centered people who have trouble considering anybody's welfare but their own. Because they enjoy the sexual activity, they believe the children do as well. Some abusers, because of their own selfishness, just don't care whether they harm the child or not. Some of these people may not abuse children directly, but arrange for others to abuse children sexually through prostitution or pornography, usually to make money.
Most direct sexual abusers have trouble relating to people their own age. Because they are often afraid or insecure in relationships with people their own age, they turn to children for companionship, friendship and sexual gratification. They feel safer and more comfortable in relationships with children because children are more trusting and easier to please or dominate than other adults.
Most people who sexually abuse children are not "crazy" but they do have serious psychological problems for which they need help. Many sexual abusers were victims of sexual abuse themselves as children.
Is the child victim to blame for the sexual abuse?
No! Even though many child victims feel guilty about being sexually abused, what happened was not their fault. The abuser is totally responsible for his or her own behavior.
Can a person who was sexually abused ever lead a "normal" life?
Yes! Most victims of child sexual abuse go on to lead very normal lives. They usually function well in most areas of everyday life. Victims of child sexual abuse have gotten themselves through some very tough situations. This is a real accomplishment! It suggests that such victims have some important strengths. Most victims of child sexual abuse make successful lives for themselves in spite of the hardships they have suffered.
© Cleanan Press, Inc. 2004 – 2014
For more information about child sexual abuse, buy . . .