Tales from Brookgreen: Gardens, Folklore, Ghost Stories, and Gullah Folktales in the South Carolina Lowcountry   (The Complete Series)
by Lynn Michelsohn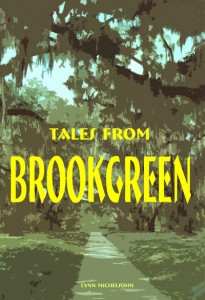 Ebook and paperback available from: Amazon.com
 and all other Amazon stores, Barnes & Noble, Flipkart
Ebook also available from: Apple iTunes, Kobo
Paperback also available from: The Book Depository (with free worldwide shipping), most other online booksellers, and your local bookstore
Book Description
History, Mystery, and Romance in the Carolina Lowcountry!

~ A haunted necklace . . .
~ A trickster rabbit . . .
~ An ingenious slave . . .
~ A shrieking droll . . .
~ A fiancé returned from the dead . . .
. . . all come to life in Lynn Michelsohn's charming collection of ghost stories and folklore.
Each of these enchanting folktales is tied to specific locations and events from the four historic rice plantations that make up Brookgreen Gardens–South Carolina's popular tourist attraction near Myrtle Beach. Many of these tales come out of the rich Gullah culture that once flourished along the South Carolina and Georgia coasts (128 pages in paperback).
Bonus Features (only in the ebook) include a Book Discussion Guide, an Interview with the Author, an Additional Story, and Selections from Lynn Michelsohn's other books .
Enrich your enjoyment of the Carolina Lowcountry whether you are a tourist, an armchair traveler, or a devotee of ghost stories and folklore.
Please note: In addition to other tales, this book contains all the stories from Lynn Michelsohn's shorter collections, Lowcountry Ghosts, Gullah Ghosts, and Crab Boy's Ghost.